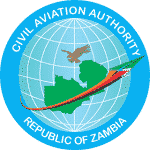 The Civil Aviation Authority (CAA), is a statutory body was established by the Government of the Republic of Zambia under Section 3 of the Civil Aviation Authority Act No.7 of 2012.
Air transport plays a significant role in the economic development of our nation. In this regard, there is need to appoint a vibrant and visionary cadre of inspectors that will ensure that the Zambian Aviation industry becomes effective, efficient, self-sustaining, and in compliance with industry standards and best practices.
The Civil Aviation Authority in accordance with the provision of Sections 17 and 18 of the Act is inviting applications from suitably qualified candidates to  fill one (01) position of Inspector Aviation Security under the Director Generals Office and reporting to the Senior Inspector Aviation Security
Job Purpose
The job holder will be required to implement compliance with ICAO Annexes 9 and 17 Standards and Recommended Practices. He / She shall undertake the monitoring of national aviation security programmes in order to coordinate response to aviation security risks 
Duties and Responsibilities
Undertake regularly conducting of security audits for aerodromes in order to monitor compliance with national and international standards;
Undertake regularly the preparation of security incident reports in order to facilitate decision making;
Undertake regularly the development and dissemination of guidelines on aviation security matters in order to meet national and international standards;
Undertake the regulation of aviation security services, equipment, personnel procedures in order to ensure adequate coordination and preparedness in the event of air piracy and unlawful interference;
Minimum Qualifications and Experience  
Full Form V /Grade 12 Certificate with minimum of five (5) "O" Levels with credits.
BA in related Social Science
Standardised Training Package 123 Basic
Standardised Training Package 123 National Inspectors Course
At least 5 years experience of which 2 should be at middle management level position in AVSEC or other aviation related field
Must be a Zambian citizen. 
CORE COMPETENCES
Ability to write Technical reports concisely in English and have good interpersonal skills
Able to communicate effectively in English
Computer literate
Integrity
Leadership
Team Player
Decision Making
Negotiation
Analytical skills
Result Oriented
Analytical skills
Applicants who meet the above qualifications are encouraged to submit an application letter together with detailed Curriculum Vitae including three (3) traceable referees and day time telephone numbers. All applications should reach the undersigned not later than 30th April, 2021
Apply to:
Director General
Civil Aviation Authority
Former Zambia Airways Technical Base Hanger 38/947
Kenneth Kaunda International Airport
P.O. Box 50137
LUSAKA
Find Zambia Jobs – The best Job board for jobs in Zambia