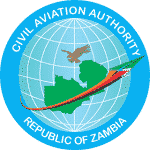 The Civil Aviation Authority (CAA), is a statutory body that was established by the Government of the Republic of Zambia under Section 3 of the Civil Aviation Authority Act No.7 of 2012.
The CAA is inviting applications from suitably qualified candidates to fill one (01) position of Inspector Airworthiness – Certification under the Directorate of Flight Safety Standards and reporting to the Chief Inspector Airworthiness. 
Job Purpose
The purpose of the Inspector Airworthiness – Certification is to approve design organizations, production organisations, accept type certificates, modifications and repairs, support the Airworthiness Inspection Unit and ensure continuing airworthiness of aircraft 
Duties and Responsibilities
Accept type certificates and support type certification activities.
Approve aircraft design, organisations, modifications and repairs
Support the Airworthiness Inspection Unit when required and ensure continuing Airworthiness of aircraft
Evaluation of Airworthiness Directives and Service Bulletins
Minimum Qualifications and Experience  
Full Form V /Grade 12 Certificate with minimum of five (5) "O" Levels with credits.
Engineering Degree, in either Aeronautical or Mechanical Engineering.
At least 3 years experience.
Member of the Engineering Institute of Zambia.
Must be a Zambian citizen. 
 Core Competencies
Ability to write Technical reports concisely in English and have good interpersonal skills
Able to communicate effectively in English
Computer literate
Applicants who meet the above qualifications are encouraged to submit an application letter together with detailed Curriculum Vitae including three (3) traceable referees and day time telephone numbers. All applications should reach the undersigned not later than 30th April, 2021 
Apply to:
Director General
Civil Aviation Authority
Former Zambia Airways Technical Base Hanger 38/947
Kenneth Kaunda International Airport
P.O. Box 50137
LUSAKA
Find Zambia Jobs – The best Job board for jobs in Zambia