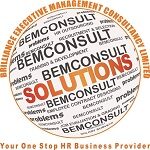 Website Brilliance Executive Management Consultancy
Description:
Job Purpose
The Human Resources Officer primary role entails
assisting the Head of Department in the running of the department with a
larger emphasis on Training, HRMS administering, Performance
Management, Industrial Relations and all Employment Cycle activities.
Monitor and address all Employee welfare, safety and recreations related
matters in accordance with the Bank Health and Safety Policies.
Summary of Key Responsibilities:
Monitor and conducting Training and Development programmes as per the approved annual training calendar and budget.
Monitor participation and completion of assignments on the bank's e-learning portal.
Generate e-learning portal reports.
Prepare certificates for each training conducted by the Bank and ensure the same is placed on respective Personnel hardcopy files & electronic folders.
Ensure that training is conducted according to the standards, practices and policies set by the Bank.
Ensure training attendance certificates are prepared for all those who successfully completed training courses.
Process approvals in the HRMS portal as per authorized level.
Administer by attending to all HRMS queries from stakeholders in liaison with the developing team.
Assist the Head of HR in collating feedback and identify improvements to the performance management process.
Assist the Head of HR in administering and enhancing the Performance management system
Providing guidance to staff and assist in implementing all issues related to Industrial Relations and Labour or Employee-Management Relations.
Liaising with Union and management on Industrial Relations issues and practices, with a view to broadening the understanding of Industrial law.
Conduct staff recruitment, orientation, placement, promotions and separations as per Bank policies.
Liaise, coordinate and monitor HR outsourced Agencies on any recruitment matters pertaining to Relief outsourced personnel.
Conducting employee Career Development and Counselling through the use of Career Path Analysis, i.e. Succession Plan, Promotion Policy.
Providing guidance and advice to the Branches and departments on all Human Resources issues and practices in accordance with Bank policies.
Assist the Head of HR in Handling Disciplinary and Grievance matters of the Bank in accordance with the Banks Disciplinary Code.
Provide monthly / quarterly statistics on staffing levels as and when requested by BOB and BOZ
Updating information on total labour figures and costs, i.e. recruitments, resignations, deaths, dismissals, accident reports,
terminations as and when requested
Filling all personal documents on staff files i.e. contracts, employment offer letters,
Required Skills and Competencies
Excellent Excel skills
Excellent Microsoft Office skills (in general, namely Excel and PowerPoint)
Excellent communication Skills
Attention to Detail
Employee Focused
Flexibility
Perseverance Skills
Planning & Organizing
Relationship Building Skills
Primary Areas of Accountability:
Qualifications and Experience
Degree in Human Resources, Business Administration, Industrial Psychology or Equivalent
Must have a minimum of 5+ years in Human Resource in a busy organization or a multinational
A minimum of 2+ years of HR working experience in a Commercial Bank or Financial Institution will be an added advantage.
Outstanding knowledge of Zambian Labour legislation and Compensation
Proven experience in data Literacy and analytics
Well vested in HRIS Administration
Must be a member of ZIHRM

If you meet the minimum hiring requirements for the above position, please email your CV and Cover letter clearly stating your salary expectations to [email protected] and copy-in [email protected]

Note that, all communications will be kept in the strictest of confidence. If you do not receive communication within 21 days of the closing date of the advert, please consider your application unsuccessful.

DO NOT SEND CERTIFICATES AT THIS STAGE