Full Time
Applications have closed.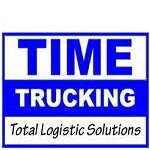 TIME TRUCKING LIMITED, transporters of general cargo would like to recruit a HUMAN RESOURCE MANAGER with the following attributes /qualifications /responsibilities:
Should possess Diploma in Human Resource management and should possess at least five years' experience in a similar position.
Should be a member of Zambia Institute of Human Resources Management
Should possess Computer skills and be at least 35 years of age.
Recruitment, training, development, attendance, and supervision of staff members.
Preparation of employment policies, contracts and all staff related records.
Ensuring staff discipline, attending to labour disputes, and recommending to the management on actions required on all staff issues including those relating to staff welfare.
Preparation of month end reports for submission to Accounts Department for the purposes of preparation of PAYROL
Knowledge of all labour laws, legal procedures and Court proceedings
Interested candidates should send their CV and related documents by email to
[email protected]
latest by 31.05.2022.