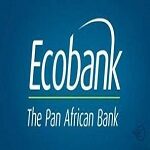 Ecobank Zambia
Ecobank Zambia is a full-service bank providing a broad range of products and Services to Consumer, Commercial and Corporate business segments within its branches and through its digital platforms.
The bank's vision is to build a world-class Pan-African bank and contribute to the economic development and financial integration of Africa by providing customers with convenient, accessible and reliable financial products and services. The bank is an affiliate of the Pan-Africa Leader Ecobank Group which is present in 33 Countries in Africa.
In order to respond to our growing market with the required human capital, we are currently looking for an experienced professional in the following area:
Position: Head Customer Experience
General Information on The Job
Supervision: Managing Director of the Affiliate
Cluster: Head of Customer Experience
Job Level: Management
Workplace: Zambia
Main Purpose
Under the direct supervision of the Managing Director of the affiliate and the functional one of the Cluster Head of Customer Experience, the Head of Customer Experience of the affiliate will have to manage and take ownership of the Group's strategy of transforming Customer Experience while ensuring locally that customer expectations as well as the Bank's business objectives are aligned.
Main Responsibilities
Strategic Level
Drive and own the Customer Experience strategy and execution roadmap / Govern the end-to-end strategy to ensure accountability for results
Lead customer experience governance forums to drive advancement of customer experience strategy through developing relevant agendas, coordination with stakeholders across the organization and driving implementation of the actions agreed upon by these forums
Facilitate the implementation of leading practice strategies, and processes to support a best-in-class customer experience across all units in the affiliate
Manage strategic priorities for the affiliate as it relates to customer experience
Advocate for customer-centric business decision-making in the affiliate
Identify areas for improvement in business processes and technology
Customer Management:
Ensure the delivery of excellent customer experience in accordance with the Bank's vision and leading-practice across the affiliate
Apply design thinking in mapping and creating seamless customer journeys across the Bank's channels
Drive the institution of metrics that measure customer experience and engagement along all touch points within the affiliate
Ensure in-depth complaint analysis and root-cause resolution efforts to help identify opportunities that bring substantial improvements to customer experience by reducing drivers of complaints across products, processes and policies
Lead targeted efforts to redesign customer experience and create opportunities to "surprise and delight" customers and drive promotion in order to ensure customer retention and loyalty / Partner closely with segment, product and channel teams to execute changes
Drive a solid understanding of how actions throughout the business affect customer loyalty and influence the direction of those actions
Present dynamic reports that provide a holistic view of customer experience across the affiliate and the expected positive developments
Team Management and Leadership
Drive accountability for customer experience across the organization / Develop customer experience KPIs across all levels of leadership
Collaborate with key cross-functional stakeholders to support and promote innovative business solutions ensuring customer priorities are considered and aligned
Foster and promote a customer-focused culture within the affiliate
Lead the understanding and dissemination of customer experience insights and performance results across the affiliate
Job Profile
Context / Experience & Competencies
10+ years relevant experience in Customer Experience management and transformation preferred / Strong track record of implementing plans to achieve business goals with clear and tangible metrics
Minimum 2 years' experience in project management and/or financial services
Proven senior management experience and able to work at C-level
Proven experience designing and delivering human centered experiences
A customer-centric mindset and approach / Strong record of applying a customer mindset to shape solutions and drive change/achieve business goals
Thorough understanding of qualitative and quantitative research, journey design and agile methodologies / Understanding of CX leading practices
Strong negotiation and relationship management skills with ability to create support and buy-in across a wide range of stakeholders
Strong analytical, problem solving and conflict resolution skills
Proven leadership/supervisory and people management skills
Strong written and communication skills, conceptual ability and ability to work well with stakeholders at all levels
Context / mastery of tools
Leadership skills is a must.
Experience or exposure to analytical tools such as Power BI,
Proficiency in Microsoft Excel, Word, Power Point and other relevant tools
Expert ability to build and maintain project schedules using Microsoft Project
Education
Degree level in Management or Social Sciences
Masters Is an added advantage
Bilingual is a plus
How to apply
If you meet the requirements and would like to be part of the Pan African Bank, please complete the questionnaire in this link and forward your updated Cover letter/CV to this email below: [email protected]
Please note that only shortlisted candidates will be contacted.