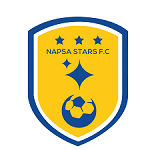 NAPSA Stars Football Club
NAPSA Stars Football Club
Head Coach
NAPSA Stars Football Club is inviting applications from suitably qualified and experienced individuals for the following job: Head Coach
Job Purpose
To plan and implement a successful coaching programme of the club with the aim of improving the general fitness, health and performance of the players and developing their skills to achieve the objectives of the club.
Under the supervision of the Chief Executive Officer, the following are among the job key responsibilities:
Develop a successful first team squad capable of favorably competing in the FAZ Premier league and CAF Champions League by teaching relevant skills, tactics and techniques
Develop and deliver a coaching programme of high quality
Organise effective training programmes for the team
Superintend over all the trainings and games at home and away
Conduct regular player performance assessments to identifying strengths and weaknesses and develop remedial programmes
Monitor and enhance performance by providing mentorship. encouragement, and constructive feedback to players.
Supervise the technical team for both the senior and junior teams and set targets and assess them regularly
Develop a youth development programme for the Junior Teams and oversee its effective implementation
Develop Junior players from the junior teams for placement in the senior team and other clubs
Scout and recruit talented young players in line with the objectives of the Club
Conduct trials for all players intending to join the senior and junior teams to ensure top quality selection
Able to read and analyze the game
Hold past records of both National and Local League
Knowledge of Zambian players and the Zambian League
Good communication skills.
Maintain a positive and transparent image of NAPSA Stars FC and the sponsors
External Relations
Supporters
Professional national and international bodies
Regulators
Internal Relations
Players
Club staff
Technical team
Internal oversight bodies
Qualifications and Experience
Holder of a CAF A License or equivalent coaching qualification
Relevant qualification in sports management
At least five (05) years traceable experience as Head Coach at Super League level
Prior experience in CAF competitions will be added advantage
Job Core Competencies
Strategy formulation skills
Problem-solving and critical decision-making abilities
Analytical and critical thinking skills
Communication and presentation skills
Risk management
Networking skills
Interpersonal skills
Teamwork
All applications with a detailed curriculum vitae and academic and professional qualifications along with copy of National Registration Card, indicating the position being applied for in the subject line should sent to [email protected] and [email protected] no later than Tuesday, 3 August 2021
Only shortlisted applicants will be communicated to.
Find Zambia Jobs – The best job board for Jobs in Zambia