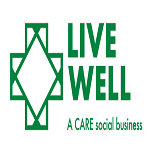 Website Live Well Zambia
Live Well Social Business Limited is a for-profit social enterprise incorporated and registered in Zambia. The social enterprise operates within the legal and regulatory framework of Zambia. Its aim is to establish sustainable operations that will reliably provide access to affordable, quality health products and supplement livelihoods. Live Well aims to become financially sustainable while maintaining a clear focus on delivering social impact to underserved rural and peri-urban communities it targets and the entrepreneurs it works with. Live Well is an independent Zambian social enterprise built on decades of work by partners with deep experience supporting the livelihoods of communities. The social enterprise is part of the CARE International network and aligned with the Ministry of Health in Zambia. Live Well with partner support, has developed a business model that empowers communities as entrepreneurs to generate social impact.
Responsibilities:
Sales and Marketing
Support Sales Officer in helping to maintain contact with our agents/shops
Assist in securing training locations and help to facilitate as need by the Live Well Team
Support the Officer in selling goods and issuing receipts
Follow up with agents, shops and participants of trainings
Do peer training and education as needed
Help with meetings, exhibitions, sale days, and deliveries
Logistics
To work with the Sales Officer and to drive in the field in a safe and responsible manner at all times
Be aware of schedule to ensure timely meetings and arrivals
Regular recording of log book
Vehicle management: Maintenance, compliance, operational issues; make sure that vehicle is fit for field use, the interior is well maintainer and clean, making sure the Operations Lead is aware of any vehicle issues
Assist with daily stock counts as well as moving and lifting stock as needed
Stores management and stock control
Admin
Trip preparation: including stock, vehicle sign in-out forms and the appropriate check lists
Adhering to Live Well policy at all times
Perform any other related duty as required
Qualifications
Minimum 1 years' experience in office administration and support
Possession of minimum of Grade 12 School Certificate of education.
Holder of a valid Class C Zambian driving license
Sound knowledge of Zambia Road Traffic Rules and Highway Code is a must.
Strong English verbal, writing and communication skills essential
Excellent interpersonal skills
Administrative, organizational and general office management skills
Experience with Microsoft office suite
An energetic, forward-thinking and creative individual with high ethical standards and appropriate professional image
An extremely well organized and self-directed individual with sound technical skills, analytical ability, good judgment, and strong operational focus
Able to maintain good working relationships with team members while retaining high levels of confidentiality and discretion
Please send a CV no more than 3 pages long and covering letter to [email protected].
Please note this position will be based in Chipata, Eastern Province.
Find Zambia Jobs – The best Job board for jobs in Zambia