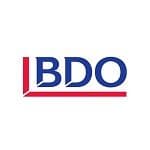 Job Title: Front Desk Intern
Responsibilities
Answer a high volume of calls and maintain a rapid response rate according to agreed standards.
To greet customers, answer questions, announce calls and provide directions always in such a way that positively
affects the customer's perception or call/visit experience
Monitor office stationery and stocks
Prepare, receive and distribute letters and packages
Keep updated records and files
Maintain strong client relationships
Qualification 
Relevant qualification to the role.
Proficient use of Microsoft Excel and Word
Exceptional oral and written communication skills
Team player and people skills
Good oral and written communication skills.
Personal organization skills.
Customer service orientation
We offer
Competitive remuneration package
Opportunities for career progression
All applications should be sent to [email protected]  not later than Friday 13th August 2021. Visit our website
www.bdo.co.zm for more information.
Only shortlisted candidates will be contacted.
BDO's global network extends across 167 countries, with over 91,000 people working out of 1,658 offices. But they're all working towards one goal: to provide you with exceptional service. That means local resources who understand your business and industry, backed by a truly global network. No matter where you do business, we have people who know your business. This is just one part of BDO's commitment to delivering exceptional client service.
Find Zambia Jobs – The best job board for Jobs in Zambia