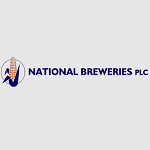 National Breweries Plc is Zambia's leading producer and distributor of Traditional African Beer. Our affiliation to Delta Beverages gives our employees a sense of pride and that of belonging to one of the biggest international brewing companies in the world. The Company offers opportunities for all to learn develop and grow, whilst offering challenging career opportunities for lateral or vertical advancement.
We are inviting applications to fill the following vacant position:
Position: Financial Accountant
CONTRACT: PERMANENT
Reporting to the Finance Manager, the successful candidate will be accountable for the following:
Responsibilities;
Preparation of year-end statutory financial statements and balance sheet reporting.
Manage financial accounting reconciliations and ensure reporting is done.
Prepare and manage the non-management payroll.
Reconcile and manage payments for all suppliers.
Daily reconciliation of the bank accounts.
Trade debtors' management.
Ensure adequate provision of doubtful debts.
Reconcile all sundry debtors' accounts reconciled monthly.
Manage the border account to ensure all goods are cleared without account being blocked.
Preparation of the fixed costs budgets.
Set and update fixed cost prices for travel, accommodation, and other consumables to allow for accurate budgets.
Ensure accurate VAT and WHT returns and payments are made every month and all certificates collected.
Ensure all payroll statutory payments are paid when due
Signatory to all bank accounts.
Act as the bank liaison officer
Review all supplier reconciliations at month-end and prior to payment approval
Approve accounts payable, cash book, and payroll cheques and payments.
Ensure accruals are properly accounted for as per accounting standards.
This job is particularly suitable for candidates who meet the following minimum requirements:
Full Grade 12 Certificate with Six (6) Credits.
Full ACCA/CIMA/ZICA or equivalent
At least 5 years' experience in financial accounting with 2 – 3 years at management level and a year in a manufacturing environment.
Ability to work independently
Well established negotiation skills at senior level
Attention to detail, Strong numerical skills & analytical mind
Extremely vigilant and innovative
SUBMISSION OF APPLICATIONS
Interested persons should send their applications and CV's not later than 19 September 2021 to;
The Human Resource Specialist
National Breweries Plc
Sheki Sheki Road
PO Box 35135
Lusaka
Email address: [email protected]
(Only shortlisted candidates will be communicated to & all attachments should be in a single PDF File. Kindly state the position in the subject line)