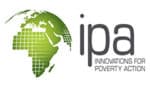 Website Innovations for Poverty Action
Innovations for Poverty Action (IPA) is a non-profit organization that creates and evaluates solutions to social and development problems and works to scale up successful ideas through implementation and dissemination to policymakers, practitioners, investors, and donors.
Specific Duties:
Reporting to the Finance Assistant directly and indirectly to the Finance Coordinator, the Archives Clerk is responsible for the key aspects of record management within the Finance department.
Duties and Responsibilities:  
1.0 Document verification:
1.1 Verify documents for Years 2016-2020
1.2 Confirm the Authenticity of receipts and provided forms.
2.0 Document Archiving
2.1 Prepare and Scan Year 2019 and 2020 missing documents
2.2 Ensure all documents scanned are properly refiled/archived.
2.3 Assist in labelling Finance files.
2.4 Restrict access to the Archives only to designated personnel
2.5 Any other duty as may be directed by your supervisor.
3.0 Required qualifications and experience:
3.1 ZICA Technician Level or Diploma (DA) Level 1,
3.2 Working knowledge of MS office,
3.3 Working knowledge of a data management system will be an added advantage.
3.4 Robust problem-solving skills, quantitative and qualitative analytical capabilities
3.5 Ability to prioritize work, meet deadlines and produce quality results on time with attention to details in a high-pressure, fast-paced environment; willing to stretch and work well beyond official working hours.
3.6 Ability to work within a team and provide support to a cross-functional range of staff
3.7 Strong verbal and written communications skills
3.8 Demonstrable knowledge and synergy with IPA Values.
Send your cover letter and C.V and Necessary documentation as a single document by uploading to the link below:
Address your Applications to:
The Human Resources
Innovations for Poverty Action
26 Mwambula Street, Jesmondine,
Post. Net box 653, P/bag E891, Manda Hill,
Lusaka, Zambia
The deadline is Saturday, September 25, 2021. Only shortlisted candidates will be contacted.
Find Zambia Jobs – The best job board for Jobs in Zambia