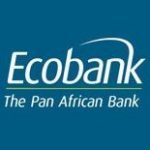 Exciting Career Opportunity
Ecobank Zambia is a full-service bank providing a broad range of products and Services to Consumer, Commercial and Corporate business segments within its branches and through its digital platforms.
The bank's vision is to build a world-class Pan-African bank and contribute to the economic development and financial integration of Africa by providing customers with convenient, accessible and reliable financial products and services. The bank is an affiliate of the Pan-Africa Leader Ecobank Group which is present in 33 Countries in Africa.
In order to respond to our growing market with the required human capital, we are currently looking for an experienced professional in the following area:
Finance Officer
DATE February 2021
GENERAL JOB INFORMATION
Job Title Finance Officer
Reports to Chief Financial Officer (CFO)
Location Lusaka, Zambia
Direct Reports None
JOB PURPOSE
Cost monitoring, optimization and review, consolidation of Bank wide budget for operating expense. To ensure that all expenses incurred are in line with budget and business exigencies/necessities.
KEY RESPONSIBILITIES
FINANCIAL
Ensure all budget items are not exceeded.
PROCESS
To ensure that costs are recognized on all banking activities in line with the bank's policies and accounting requirements.
Review, prepare and ensure full amortization of prepaid expenses.
Ensure adequate monthly accruals for expenses.
Ensure appropriate posting of expenses to the rightful department codes and expense codes.
Maximum 24 hours expense processing turnaround time.
To conduct monthly sensitivity analysis of expense lines to avoid over/under recognition expense.
To prepare the weekly BOZ returns on deposits and loans.
CUSTOMER
External Auditors
All branches and Head Office units
Credit Risk Management Department
Operations
TEAM
Motivate, share ideas and provide on the job training for Fixed Assets unit and cost control/market intelligence unit as whole.
JOB CONTEXT/SCALE
Perspective Objective Measure
Customer Franchise Process and operational improvement Average response time to request/enquiries.
Process Exceed customer Satisfaction Accuracy and timeliness of expense ticket review.
Process Process and operational Improvements Providing correct GL account for operating expense/ticket processing.
Process Process and operational Improvements Providing adequate accruals for operating expenses requiring such and amortization of prepaid expense.
Process Process and operational Improvements Preparation and processing of monthly remittance of NAPSA, VAT, WHT, GST and other statutory liabilities within the required timeline.
Process Process and operational Improvements Understudy the performance management officer on fixed assets management.
Process Process and operational Improvements Timely Review of OPEX requests and approval processing.
JOB PROFILE
Experience & Qualifications
Degree in Finance, Accounting/ACCA/CIMA or relevant field.
Minimum of one (1) year experience in Financial Management
Skills, Capabilities & Personal attributes
Interpersonal skill
Leadership / Supervisory
Analytical/problem solving skill
Computer appreciation (word- processing/Spreadsheet/PowerPoint)
Excellent customer service orientation
Database Management
Strong knowledge of banking operations, products & customer segmentation.
Strong knowledge of financial analysis and financial interpretation.
Strong knowledge of MS-Excel, MS-word, power point.
Strong knowledge of Financial and auditing standards (Local and international).
Paying attention to details
Positive "can do" attitude
Goal driven and result oriented
Good relationship Management
Ability to work to strict deadline.
Creativity and innovation
Ability to work with minimum supervision.
Application Process
If you meet the requirements and would like to be part of the Pan African Bank, please complete this questionnaire and forward your updated Cover letter/CV to [email protected] no later than Tuesday, 16th February 2021 by close of business.
Please note that only shortlisted candidates will be contacted.