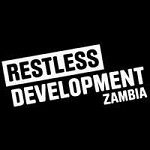 Restless Development Zambia
ABOUT RESTLESS DEVELOPMENT
Young people share a restless determination to address the problems that affect them the most. That's where we come in.
At Restless Development, we're proud to be the banner carrier for youth-led development, demonstrating from the grassroots to the global policy levels that young people can and must play a lead role in development. As a result, Restless Development is repeatedly cited as a model of best practice in youth-led development by the World Bank, the UK Department for International Development (DFID), UNICEF, UNAIDS and others.
With over 10 years of successful work in Zambia, and being part of so many networks with public, private and civic society. We are looking for an experienced Finance and Administration Intern to support the organization's Finance and Administration unit.
ABOUT THE ROLE
Job title: Finance and Administration Intern
Location: Kabwe
Salary: K 2,850 Monthly Basic Allowance
Preferred start date: TBA
Length of contract: 6 Months
Visa requirements: Must have the right to work in Zambia
Reports to: Finance and Administration Manager
Expected travel: Expected to travel within Zambia to supplies and support the programmes
Scope of Work and Focus
The Finance and Administration intern Scope of work will be supporting above listed projects with day to day financial administration work of the organization, the Finance and Administration Intern's duties include;
To work with the Finance and Administration Manager to enhance the accountability of the operations of the Finance Unit and support the Country Director work, Which includes, but not limited to;
Monitoring and evaluating of financial management accounting activities.
Implement the Mobile money and the Internet banking system within the organization.
Finalizes and implement best practices around the Staff Medical and Fuel implementation.
Supporting the Country Director and the Head of Operation with their office filling and any other work as directed.
Ensure compliance with RESTLESS DEVELOPMENT financial policies and procedures for donors.
Promotion of best financial practices through the procurement's documentations.
ABOUT YOU
We are looking for people with the right competencies and skills for the role, and who demonstrate the personal qualities consistent with our Values.
Values, Behaviours and What we expect of the Finance and Administration Intern.
HEART: We are who we serve. We are brave.
Values-led- Supports managers to embed a values led culture within their team. Uses values to guide decision making and group actions.
Innovation- Is driven to generate ideas which continually improve ways of working, involving others in problem solving. Adapts style to cope with and support others through change.
HEAD: We are 100% professional. We prove that young people can
Delivers Quality- Strives for continual improvement against individual goals, seeking opportunities to maximise their contribution to team priorities. Supports others to deliver quality and improve their work. Takes ownership for ensuring value-for-money in the areas for which they
Decision- Making- Take partial ownership. With guidance, takes ownership for programme elements and/or internal processes. Considers underlying issues and Restless Values when making operational decisions.
VOICE: We generate leaders. We are proud to carry the banner for youth- led development.
Leadership- Actively seeks to develop their own leadership skills. Is seen as a leader to beneficiaries and other young people.
People Development- Regularly seeks feedback and evaluates own performance, creating opportunities for personal development. Develops others through proactive sharing of knowledge, skills and opportunities.
HANDS: We are in it together. We listen and learn.
Effective Communication- Confidently adapts their communication style to suit their audience. Is able to influence others to build shared understanding.
Collaboration- Seeks opportunities to collaboratively deliver quality against team goals by building strong relationships with colleagues from across the organisation. Works with external partners to maximise mutual benefits
SKILLS AND EXPERIENCE
Essential:
Hard working with the ability to multitask
Experience in keeping to a budget and financial accountability
Excellent written skills in English
Computer literate, able to work with Microsoft Office (Word, Excel, PowerPoint and Email) and Internet
Organized, with excellent time management
Excellent interpersonal skills
Desirable
No experience required
Knowledge of monitoring and evaluating of financial management accounting activities.
Good knowledge of supplier or third party management software
Aptitude in decision-making and working with numbers
Experience in collecting and analyzing data
Strong leadership capabilities
WHAT WE DO FOR YOU
Remuneration
All work-related costs/expenses will be covered by Restless Development, i.e. Travel to and from the target intervention sites (placements) when assigned to do field work, related communication, and meals.
Values and Culture
At Restless Development, we're proud that the strength and integrity of our Values has been recognized by staff, beneficiaries, donors and others who we work with. Beyond this, we have a culture of recognizing and celebrating both our Values and our global achievements with monthly Values Champions and an annual Values Day.
Coordination of Activities and Reporting
Reporting for this internship and all the activities under it will be directly to the Snr Finance Manager and receive direct support from the Assistant Administration and Procurement Coordinator.
Working Hours
You are contracted to work 37.5 hours per week. Restless Development Zambia normal working hours are 8:00hrs to 17:00hrs – Monday to Thursday and Friday 8:00hrs to 13:00hrs.
Termination Clause
Either party without cause may terminate this agreement by thirty (30) days written notice to the other party. All Restless Development property, intellectual or otherwise should be returned to Restless Development and ensure that all outstanding dues to the Charity are settled.
Travel and medical insurance
When travelling abroad with work, all staff will be covered by Restless Development's travel insurance.
KEY DATES
Please send your applications to 

[email protected]

 by 6th August, 2021 Indicating Subject as "APPLICATION_YOUR NAME_ F&A INTERN".
Send your CVs, resumes and covering letter only.
Find Zambia Jobs – The best job board for Jobs in Zambia