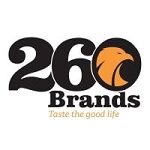 Website 260 Brands (Seba Foods Zambia Ltd.)
Job Purpose
The Extension Officer will report directly to the Regional Manager and will be responsible for supporting with several large scale projects promoting small holder organic agriculture in the Northern and Lusaka provinces of Zambia in partnership with Seba Foods Zambia Ltd., a consumer food manufacturer which processes, markets and distributes soya and maize-based consumer food products. Seba Foods aims to partner with thousands of small holder farmers in organic soya production through farmer recruitment, training in organic farming, organic inputs financing, follow up farmer training support, digital farmer record keeping, aggregation and guaranteed off-take of organic soya at a premium price.
The roles are based in various locations including Kasama, Northern Province and Chongwe or Rufunsa, Lusaka province and other locations to be determined.
Key Responsibilities
Recruitment of small holder farmers based on various requirements set by Regional managers including ability of small holder farmer to carry out organic farming
Carry out relevant community meetings to inform the small holder farming community of relevant updates, spread awareness of 260 Brands' procurement activities and sensitize small holder farmers on various matters
Distribute inputs (organic seed, inoculant etc) to small holder farmers
Lead and facilitate training with small holder farmers on organic farming methods and climate smart agriculture
Closely monitor farmer fields (making numerous visits each season), provide follow up training support to farmers and develop relationships with lead farmers and farmer groups
Create farmer profiles via use of a Digital App and enter farmer info as required
Report on farmer field practices via use of a Digital App and support farmers with organic certification
Conduct procurement of crops from small holder farmers in organic soya, among others, during harvest season; and carry out data entry of relevant info into Digital App
Monitor and gather impact data in the field to ensure donor reporting requirements are met
Provide project updates on a consistent basis to Regional Managers
Key Qualifications
Diploma in Agriculture or equivalent
Language: Fluent in English, Bemba and Nyanja
1-2 years relevant work experience in the agricultural sector as an extension officer
Extensive knowledge of organic farming and organic certification requirements
Extensive knowledge of small-scale agribusiness and farming
Skills: Excellent coordination, training and communication skills
Be willing to relocate in Kasama, Northern Province or Chongwe or Rufunsa, Lusaka Province
Familiarity with Automated Out grower management systems (AOMS) in the form of digital apps, for creating farmer profiles, inputting farmer info and streamlining procurement operations
Demonstrates a positive and resilient attitude towards challenges
High level of computer literacy with a strong command of Microsoft Office products (Word, Excel and PowerPoint).
For all interested candidates, please email a CV and relevant qualifications to ca[email protected] with 'Extension Worker' in the subject line.