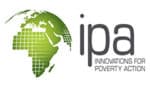 Website Innovations for Poverty Action
IPA-Zambia is an International Research organisation.
Job title: Enumerator (50)
Reports to: Field Manager
Innovations for Poverty Action (IPA) is a non-profit organization that creates and evaluates solutions to social and development problems and works to scale up successful ideas through implementation and dissemination to policymakers, practitioners, investors, and donors.
Innovations for Poverty Action (IPA) Zambia seeks qualified and suitable candidates to join the IPA Zambia Research Team as Enumerators.
The field Enumerator is primarily responsible for collecting field data by using various data collection methods. He/ she has direct contact with participants and have a significant bearing on the quality of data collected and ultimately on the quality of data output.
Responsibilities
Collect and record data from the field for a specific project through in-person interviews.
Submit completed tasks to the supervisor and discuss developments daily
Review data gathered from an interview to check if they are complete and accurate
Report any complication during data collection to the Field Manager or Research coordinator as soon as he/she identifies the problem.
Keep all data collecting instruments safe and secure
Effectively communicate the research to all participants in an easy to understand the language
Education/Work Experience/Requirements
Strong verbal and written communication skills
Must be able to work under pressure and meet deadlines while maintaining a positive attitude and providing exemplary customer service
Ability to work independently and to carry out assignments to completion within parameters of instructions given prescribed routines, and standard accepted practices
Must have at least a Diploma.
He/she must be physically fit as they have to walk from one place to another for long hours for data collection.
Good listening, analytical and probing Skills.
Must have basic knowledge of how to use Microsoft office tools, especially Word and Excel.
Ability to safely use electronic gadgets
Fluent in any Bemba and Nyanja.
How to Apply
Open Enumerator Recruitment to submit your application or copy and paste the link below into your browser;
https://www.surveymonkey.com/r/PTD9T2R
Only shortlisted candidates will be contacted. If you do not receive any feedback two weeks after the deadline, consider your application unsuccessful.
The deadline for applications is Wednesday 3rd March 2021. First come, first serve