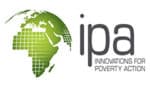 Innovations for Poverty Action (IPA)
Innovations for Poverty Action seeks a qualified Embedded Labs Coordinator to collaborate closely with the Ministry of General Education in Zambia to strengthen its capacity to use evidence to improve its programs and policies.
Innovations for Poverty Action (IPA) is an international research and policy nonprofit that discovers and promotes effective solutions to global poverty problems.
IPA has been engaging with Zambia's Ministry of General Education (MoGE) for almost 10 years and has conducted multiple policy-relevant education research projects in close collaboration with them. Responding to MoGE demand for support beyond impact evaluations, IPA has developed an embedded evidence lab with MoGE, putting a strong focus on equipping them to regularly use evidence to improve their decision-making, policies, and programs. This position will support these activities, reporting to the IPA Zambia's Policy Manager and dotted line oversight from the Global Policy team.
Responsibilities 
The Coordinator will perform a variety of tasks related to leveraging existing data and developing new research projects to drive greater use of evidence within the Ministry. For example, the Coordinator may conduct activities including but not limited to:
Mapping the data needs of various directorates within the Ministry against the existing data available, complemented with an assessment of its quality
Assessing existing datasets and indicators according to criteria of relevance, objectivity, and reliability
Identifying opportunities to test low cost "nudges" to improve service delivery
Developing and executing opportunities to leverage administrative data for analysis to inform key MoGE programs and decisions
Developing and executing "learning-by-doing" capacity building projects with MoGE counterparts
Developing opportunities to leverage administrative data for research; connecting local and international researchers to pursue these openings
Producing "policy briefs" on key policy questions that can be answered using the Ministry's own data
Developing a policy-driven research agenda for the lab and facilitating the development of research projects to respond to the agenda
Sharing existing evidence to inform MoGE program design and delivery
Advising MoGE directorates on developing and maintaining MEL plans
Deliver capacity building trainings on M&E, impact evaluations, etc.
Provide guidance to MoGE directorates' ongoing monitoring activities, including by recommending implementation quality indicators and data sources
Qualifications 
Master's degree in international public policy, education, social science, or related fields.
2-5 years of relevant work experience
Hands-on experience supporting Monitoring, Evaluation and Learning systems. Familiarity with the challenges surrounding causal attribution
Experience in quantitative and qualitative data collection, management and analysis
Experience working in the education sector of a developing country, ideally in close interaction with government stakeholders
Demonstrated ability to coach and train others in MEL methodologies
Superior analytical, quantitative, and conceptual thinking skills
Strong client-facing and presentation skills
Cultural sensitivity and demonstrated ability to work successfully with diverse constituencies
Ability to present information in a structured and insightful way, both in writing and orally
Self-starter, entrepreneurial mindset, versatility, and strong multi-tasking skills
Passion for making data-driven decision a reality in the development sector
Preferred additional qualifications
Demonstrated ability to coach and train others in statistics, data analysis or MEL methodologies
Background in development programs relating to education
Familiarity with the concepts surrounding the Theory of Change and the core tools of MEL (both quantitative and qualitative research methods)
Familiarity with SurveyCTO, Open Data Kit or similar survey software, SMS or Interactive Voice Response (IVR) technology
Ability to use Stata, R or similar statistical software
Application Instructions 
Complete the J-PAL/IPA common application. After completing a brief registration, choose the Research job category, then select "Embedded Labs Coordinator".  Most applications for research positions require you to include at minimum two letters of recommendation, a statement of purpose (cover letter), CV, and transcripts.
Note that you are able to submit your application before your references complete their recommendation letters; however, you must include their contact information before submitting your application. Given the volume of applications received, only shortlisted candidates will be contacted for an interview.