Full Time
Applications have closed.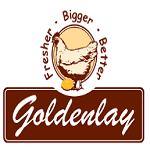 Goldenlay Agri Ltd is the largest producer, supplier, and distributor of table eggs across Zambia, and boasting a brand familiar to retailers and consumers alike. Goldenlay is hereby inviting applications from suitable qualified candidates to fill the position of Truck Driver (x4), Passenger Driver (x3) and Tractor Driver (x4)
RESPONSIBILITIES
Inspect the vehicle before and after trips
Fill out the driver defect book every day.
Submit reports indicating vehicle condition.
Assist loading and offloading the truck if necessary.
Obtain full set of truck papers and full set documents for the cargo, and keep them safe and available when needed, including getting customer's signature on the proof of delivery.
Drives tractor-trailer combination, comply with traffic law and driving regulations, to transport and deliver on time cargo.
Move the truck into loading and offloading position, to cooperate with loading and offloading crew as needed.
REQUIREMENTS
CE/PSV driver's license
At least 30 years of age
5 years' work experience
Clear and checkable references
Grade nine certificates
Should have knowledge about basic mechanics
Defensive Driving Skills
Should be honest
Police clearance certificate
Fingerprints
Should be able to speak and write English
All qualified and interested candidates should send their updated CV's with at least three traceable references to the address/e-mail below.
The Human Resource Manager
Goldenlay Agri Limited, P.O. Box 90444, Luanshya
Closing date of applications: Friday, 4 November 2022.