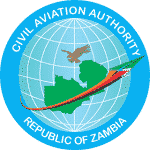 The Civil Aviation Authority (CAA), a Statutory Body established by the Government of the Republic of Zambia under Section 3 of the Civil Aviation Authority Act No. 7 of 2012 to provide for regulation and promotion of Civil Aviation in Zambia, is inviting applications from suitably qualified candidates for the positions of:
1. DRIVER
2. OFFICE ASSISTANT
For further information regarding the above position, kindly visit the CAA Website, www.caa.co.zm. All applications should reach the undersigned not later than Thursday, 31st March, 2022 and must be in hard copy
Please note that only shortlisted candidates will be contacted.
Apply to:
The Director-General
Civil Aviation Authority
Former Zambia Airways Technical Base Hanger 38/947
Kenneth Kaunda International Airport
P.O.Box 50137
LUSAKA