Full Time
Applications have closed.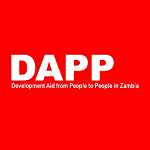 DAPP
Development Aid from People to People (DAPP) is inviting suitably qualified and experienced persons to apply for a position as a Driver.
DAPP registered in 1990 as a national non-profit association with its national office in Copperbelt. The objective of DAPP is, through the implementation of projects, to empower people with knowledge, skills and tools to improve their living conditions.
DAPP works shoulder to shoulder with people in urban and rural communities in the following thematic areas: Health, education, agriculture, climate change mitigation and adaptation, environment, human rights and community development. DAPP has an income generating leg by selling second hand clothes.
DAPP is currently working in 62 districts situated in all 10 provinces of Zambia reaching over 1 million people with direct interventions.  DAPP is a Member of the International Humana People to People Movement.
The position is based at the DAPP Partnership Office in Lusaka with frequent travel to project sites.
Duties and Essential Job Functions
Ensure that any project vehicle is in road worthy condition before it is used
Perform routine checks of oil, fuel, battery, and clutch fluid and water levels in the radiator every day
Ensure that there is spare wheel, Jack, spanners, triangles, fire extinguishers, first aid box etc. in the vehicle at the beginning and end of each day
Clean the vehicle both inside and outside at the beginning of each journey or end of each day, before handing over the vehicle keys to the responsible person
Report any maintenance requirements to the supervisor as soon as they are identified
Ensure the passengers take safety precautions before any journey begins e.g. by wearing seat belts
Conversant with the operations mechanism of the vehicle
Conversant with and observe motor vehicle policy of DAPP
Up to date and compliant with any changes in road traffic regulations
Ensure that every journey and fueling/refueling are recorded in the motor vehicle Log Book
Deliver materials and personnel to instructed destinations, ensuring safety of passengers, self, goods and the vehicle at all times
Ensure that the vehicle is serviced each time it is due for service
Ensure that the vehicle is driven for official purposes only
Qualifications
Grade 12 level of Education
Valid Class C motor vehicle driving licence
Valid Police Clearance Report
Knowledge of basic mechanics
At least One year experience
Applying for the Job
Qualified persons should write a cover letter indicating their current, or last gross salary. This should be accompanied with a detailed Curriculum Vitae (CV), with three traceable referees, who are, or were the applicant's supervisor(s).
Send the application to:
DAPP Partnership Office, 13 Antelope Close, Off Kudu Road
Kabulonga, LUSAKA
All applications should be sent through email to: [email protected] with copy to [email protected]
Copies of certificates and other credentials must be attached together with the application letter.
The position title must be indicated in the subject area of the email.
The cover letter and CV must be one continuous document in MS Word or PDF formats only, and the applicant's full names must be used as the file name for the document, e.g. Mary Jones.
The closing date for receiving applications shall be 17th June, 2022.
Please note that only short listed candidates will be contacted