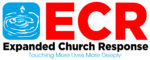 Website Expanded Church Response
Expanded Church Response (ECR) is a faith-based organization implementing OVC, GBV, HIV/AIDS, and other programs to mitigate human suffering and bring transformational development.
ECR has implemented programs funded by USAID, European Union, UNICEF, and Global Fund either directly or through a range of highly regarded local and international organizations. Working with partners like these, the private sector, and government, we are seeing communities awakened to new ways to improve quality of life for the most vulnerable, and rise up to be the key to their own transformation.
Purpose Of The Position/ Major Responsibilities
The district Coordinator will be responsible for the overall coordination of the project in the Z-CHECK/FCI District and will provide support to ECR district and community level activities, including faith communities in planning, implementation, monitoring, evaluation and reporting. The position will be responsible for the day-to-day coordination of the project at district level, ensuring smooth implementation of activities and foster coordination and linkages among faith communities, public and private structures and other stakeholders.
Specific Responsibilities
Project Management and planning at the District Level
Implementation of the FCI activities
Staff and Community Volunteer Supervision & Office Management
Coordination, Communication and representation at District level
Report writing and Monitoring the activities at District level
Key Qualifications
Degree in Development Studies or any related Social Science field.
At least three years of experience in related work
Required Skills
Excellent Computer skills (Microsoft Word and Excel)
Good writing and communication skills (English)
Strong team player
Strong organizational skills, attention to detail and accuracy
Able to work under minimal supervision
Good Report Writing skills
If you feel you have what it takes, send your application letter with updated CV to the Human Resource Officer using the email [email protected]