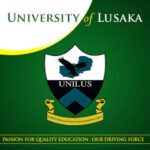 Job Title: Director – Postgraduate, Research, Innovation and Enterprise Development Centre (PRICED)
The University of Lusaka is inviting applications from suitably qualified candidates to fill the position of Director to manage the Postgraduate, Research, Innovation, and Enterprise Development Centre (PRICED). The Director's responsibility will be to provide leadership by ensuring that all units under the PRICED center are fully functional and are aligned to the University's objective of undertaking applied research and consultancy which will add value to both the industry and academia.
Main Duties
The Director- Postgraduate, Research, Innovation, and Enterprise Development Centre (PRICED) will be responsible for the following duties:
Develop University strategy, policy, and procedure in relation to Research, Consultancy, Enterprise Development, Publications, Executive Education, Customized Training and Education;
Supervise and ensure that the Research, Consultancy, and Enterprise Development Departments are meeting their objectives;
Maximise the impact of research performed within and in collaboration with corporate entities;
Identify and disseminate best practices in Research, Consultancy, and Knowledge Transfer;
Strengthen local and international Research and Consultancy collaborations;
Identify new research, enterprise, collaborations, and community engagement opportunities that have potential for significant growth;
Participate in the sourcing of research grants and negotiating contract terms;
Formulate co-ordination research guidelines among Faculties and Departments as well as define areas of competence in consultancy;
Set quality assurance standards and advisory services to the University and Research Entities;
Increase the capacity of the University to generate income;
Minimum Qualifications:
Applicants should possess the following;
A bachelor' Degree, Master's Degree, as well as a Ph.D. in the relevant field of expertise obtained with research/thesis component.
Professorship will be an added advantage.
A minimum ten years' experience as a Senior Researcher and Consultant in a similar capacity.
Lecturing, Administration and Professional experience.
Extensive experience in managing academic and industry research.
High level of integrity and accountability coupled with enthusiasm and commitment.
Salary Package:
An attractive and competitive package will be offered commensurate with qualification and experience.
Application Guidelines
Interested candidates should send their applications together with copies of educational and professional certificates, and curriculum vitae with three traceable referees to the undersigned by 23rd April 2021
The Registrar – Administration
University of Lusaka,
Plot No. 37413,
Off Alick Nkhata Road, Mass Media,
P O Box 36711,
Lusaka, Zambia.
Find Zambia Jobs – The best Job board for jobs in Zambia