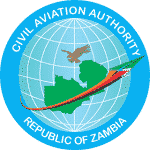 The Civil Aviation Authority (CAA), is a statutory body was established by the Government of the Republic of Zambia under Section 3 of the Civil Aviation Authority Act No.7 of 2012.
The CAA is inviting applications from suitably qualified candidates to fill one (01) position of Director – Aerodromes Safety and Standards under the Directorate of Aerodromes and Ground Aids and reporting to the Director General.
Job Purpose
To oversee the implementation of national strategies and programmes relating to the safety of aerodromes and security of civil aviation in order to ensure compliance to the Civil Aviation legislation and the ICAO Eight Critical Elements of the Safety Oversight System. 
Duties And Responsibilities
Manages effectively the regulation of the design, construction and maintenance of structures and pavements at aerodromes and other aviation facilities in order to ensure safety of users.
Manages effectively the regulation of the design, installation and maintenance of electro mechanical systems at aerodromes in order to support smooth operations.
Manages effectively the regulation of aerodromes operations in order to ensure adherence to ICAO standards
Manages effectively the development and monitoring of aerodromes programmes, systems and procedures in order to prevent unlawful interference, air piracy and other forms of subversive activities.
Manages effectively the regulation of airport emergency services, equipment, personnel procedures in order to ensure adequate coordination and preparedness in the event of an aircraft accident or incidents.
Manages effectively the provision of technical guidelines on structural/operational standards and aviation curriculum development in order to promote adherence to industry best practices.
Manages effectively the zoning and land use in the vicinity of aerodromes in order to control developments in conformity with obstacle height restrictions and prevention of encroachment requirements.
Manages effectively the approval and auditing of the airport safety management in order to minimise hazards and risks in aerodromes operations.
Undertakes timely development of individual and departmental work plans in order to monitor and evaluate performance.
Supervises effectively the utilization of resources in order to attain the objectives of the Directorate
Minimum Qualifications And Experience
Full Form V /Grade 12 Certificate with minimum of five (5) "O" Levels with credits.
Engineering Degree, preferably Civil Engineering
Certificate in Airport Management will be an advantage
Holder of Government Safety Inspector Aerodromes Certificate (GSI) will be an advantage
At least 10 years with five at management level.
Registered Engineer with the Engineering Institute of Zambia (EIZ)
A valid EIZ practising License is a MUST
Must be a Zambian citizen.
Core Competencies
Able to write analytical and technical reports
Able to communicate effectively in English
Must have knowledge of ICAO standards, procedures and relevant documentations.
Must have knowledge of Civil Aviation Legislation and regulations.
Applicants who meet the above qualifications are encouraged to submit an application letter together with detailed Curriculum Vitae including three (3) traceable referees and day time telephone numbers. All applications should reach the undersigned not later than 30th April, 2021
Apply to:
The Director – General
Civil Aviation Authority
Former Zambia Airways Technical Base Hanger 38/947
Kenneth Kaunda International Airport
P.O. Box 50137
Lusaka