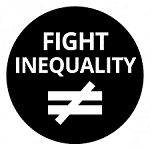 Fight Inequality Alliance Zambia (FIA Zambia)
Job Title: Digital Engagement Officer
Start date: As soon as possible
Contract Type: Part-time (2.5 days per week), fixed-term contract through ACA (our fiscal host organisation), extendable by mutual agreement and subject to available funds.
Salary: A competitive salary will be offered commensurate with skills and experience
The Fight Inequality Alliance Zambia is seeking a strong and dynamic Digital Engagement Officer with excellent digital organising skills and knowledge and a passion for socio-economic justice and fighting inequality to fill a newly created part-time position. The Digital Engagement Officer will help shape and implement a digital engagement strategy to contribute to achieving FIA Zambia's vision and strategy.
Who is Fight Inequality Alliance Zambia?
The Fight Inequality Alliance Zambia (FIA Zambia) is a coalition of organisations – among them rural, youth, labour, climate justice, women's rights, urban, artists, land rights and social justice movements fighting inequality in Zambia. FIA Zambia works on the premise that the gap between the rich and poor adversely undermines access to social services and the protection of fundamental human rights. FIA Zambia was founded in Lusaka (at the Global Platform Zambia) in September 2018, with the objective to collectively advocate for a more equal and fair Zambia. The most affected; women, youth, persons living with disability, indigenous groups, and urban poor are on the frontlines of inequality and are at the forefront of our movement. The status quo needs to be reversed for us to achieve the just, equitable and sustainable country we need. We are coming together to organise for collective solutions to the root causes of the inequality struggles we face, and to leverage our collective strength to #fightinequality. FIA Zambia is building a movement to challenge privilege, counter the excessive concentration of power and wealth in the hands of a small elite, and advance a more just, equal and sustainable world.
Location
The place of work is Lusaka, Zambia with travel to other parts of the country whenever necessary. The post holder will work from home and from the offices of the host and/or member organisations of Fight Inequality Alliance based in Lusaka by mutual agreement.
Role Overview
Leads the shaping and implementation of FIA Zambia's social media strategy. Scales up engagements on FIA Zambia's content on all digital platforms and contributes to building a community of online activists fighting inequality. The person ensures that the work of the alliance has the social media profile it needs to enable it to shape online conversations around inequality as well as influences policy. Involves planning, creating content, optimising and reviewing FIA Zambia's digital platforms. S/he brings the voices of grassroots activists and allies to the fore, paying attention to feminist principles and telling real stories of the marginalized in new and provocative ways.
Reports to: National Coordinator, FIA Zambia
Key Responsibilities
Shaping and implementing the alliance's social media strategy based on a deep understanding of audience insights, data, and equally on the experiences of FIA Zambia and its allies working on the frontlines of inequality
Overseeing day-to-day management of social media delivery to ensure consistency and boost social media audience growth, traffic and engagement by developing a social media strategy
Managing digital media output in alignment with FIA Zambia's work plan and strategy
Mobilise capacity in support of the alliance and make the best possible use of member expertise and potential.
Developing and delivering content reflecting the lived experiences and demands of people on the frontlines of inequality and delivered in a pro-poor, feminist and anti-neoliberal way
Scoping out conversations and trending topics on inequality and using these to inform FIA Zambia digital content.
Ensuring that content created results in conversations, shares, retweets and quotes on our digital platforms and not just likes.
Skillfully create a community of online activists that take action and engage in discussions on inequality
Using our owned channels (Twitter, Facebook, email) and build other relevant channels to drive conversation, build an activist community and to re-shape the narrative on inequality
Applying new digital approaches which increase discoverability and usability of content as well as securing new media and social media partnerships
Ensuring there is a digital audience and engagement with FIA Zambia's mobilisations such as campaigns, education sessions, concerts and others
Reviewing and providing feedback/lessons on the outcomes of social media campaigns, activities and actions for Monitoring, Evaluation and Learning.
Engage with media and secure effective coverage.
From time to time carry out any other duties that are within the scope of the job, and as reasonably required by the Line Manager.
Person Specification
Essential
A commitment to FIA's values, including:
Strong feminist understanding, analysis, commitment and behaviour. Committed to battling all forms of discrimination and standing with the most oppressed.
Strong commitment to develop, promote and practice Fight Inequality Alliance's goals and values, as well as adhering to and upholding our Common Principles. Commitment to grassroots organising and leadership.
Be ready to keep learning, with accountability to those who experience oppression as a result of their identities, such as their gender, race/ethnicity, disability, class, or other identities.
Extensive social media management experience
Extensive experience developing social media strategies and growing digital audiences
Strong comprehension of standards and best practices of social media platforms
Able to thrive in an emergent space, in a "start-up" movement without all the systems, processes and support of a big NGO.
Ambition to want to grow an exciting alliance to become a major digital activist voice in Zambia
Strong organisation and time management skills
A good understanding of inequality issues and debates in Zambia, as well as the political institutions and processes.
Willing to travel as required without creature comforts.
Excellent verbal and written communication skills. Completely fluent and strong in English. Preferably also fluent in at least one other national language.
Expert knowledge in graphic design and web-based design websites including but not limited to: Adobe Photoshop, After effects, Canva, etc. Must be able to work with Google Suite
Proven track record in social media video production (pre-production, shoot, post-production).
Desirable
Experience working in Zambian civil society – ideally working in alliance with social movements, NGOs and unions.
Lived experiences with intersecting systems of oppression, with knowledge and experience of how power and privilege play out in the contexts we organise in
Experience in successfully securing broadcast, print and online coverage, and producing communications products.
SAFER RECRUITMENT: FIA is committed to preventing any type of unwanted behaviour in the movement including sexual harassment, exploitation and abuse, lack of integrity and financial misconduct; and promoting the welfare of children, young people and adults. FIA expects all staff to share this commitment through our code of conduct. We place a high priority on ensuring that only those who share and demonstrate our values are recruited to work for us. Offers of employment will be subject to satisfactory references and appropriate screening checks, which can include criminal records checks.
How to Apply:
Applications should be submitted via email to [email protected] with 'Application for the position of Digital Engagement Officer' in the subject line.
Applications must include only:
A motivation letter of no more than 2 sides that indicates: a) why you are interested in this position and what inspires you about fighting inequality; and b) aspects of your background that demonstrate the required competence for this role;
A detailed CV with three references; and
Two examples of your past work that best show your suitability for the role (for example videos, campaigning material, media work, how you grew social media engagement etc).
Please ensure that your application, as a whole, speaks to the required experience, person specification and key roles and responsibilities. Please do not apply if you do not meet the required experience. Kindly indicate in your application when you would be ready to start work in an event that you got the job.
Only shortlisted candidates will be contacted.
Find Zambia Jobs – The best job board for Jobs in Zambia