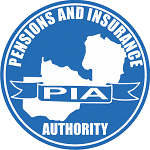 Pensions and Insurance Authority
The Pensions and Insurance Authority is the regulatory and supervisory authority for the pensions and insurance industry in Zambia as provided in the Pensions Scheme Regulation Act No. 28 of 1996 (as amended by Act No. 27 of 2005) and the Insurance Act No. 27 of 1997 (as amended by Act No. 26 of 2005). The Authority is empowered under section 5 of the Pension Scheme Regulation Act to formulate standards in the conduct of insurance and pensions business. The Authority supervises, among others; insurance companies, reinsurance companies, insurance intermediaries, pension schemes, fund managers and fund administrators.
The Authority hereby invites applications from suitably qualified and experienced candidates to fill the position of Deputy Registrar – Pensions.
Overall responsibilities:
Reporting to the Registrar who is the Chief Executive Officer, the Deputy- provides leadership in the provision of technical support to the Registrar in the enforcement of provisions of Pension Scheme Regulation Act in order to promote a thriving, stable and reliable Pension industry in Zambia.
Specific duties: –
Providing leadership and direction to the Department in fulfilling the objectives set out in the Pension Scheme Regulation Act.
Taking lead in the development of the Authority's strategy in the Pensions department.
Advising the Registrar on matters pertaining to pensions management.
Providing the framework for inspections towards enhancement of management decisions in pensions management.
Managing and administrating the Department, including the management of personnel and budgets
Oversees the Pensions Registration process of operators in the pensions industry.
Formulating and enforces standards of conduct for Pension schemes business and Trusts.
Qualifications       
GCE O Level Certificate with credit in English and Mathematics
Bachelor's degree in Actuarial analysis, Business Management, Law or Accounting or Business related field.
Masters degree in business related field
Minimum of 10 years' experience, 5 at senior level in a reputable organization
Skills
Excellent quantitative and qualitative skills
Ability to interpret legislation as well as financial reports;
Ability to make decisions on empirical evidence,
Solid understanding of the role of regulation and supervision in financial services
Highly objective and ethical.
Excellent interpersonal, communication, mentoring, organizational and coordination skills
Applicants meeting the above qualifications should submit an application letter, certified copies of academic and professional qualifications and updated Curriculum Vitae to the address below. The deadline is 17th August, 2021.
Human Resources and Administration Manager
Pension and Insurance Authority
Stand No. 4618
Lubwa road, Rhodespark
P/Bag 30x
Ridgeway
Lusaka.
Only shortlisted candidates will be contacted for interviews