Full Time
Applications have closed.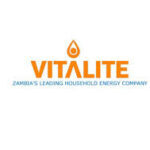 Are you up for a challenge and looking to join a great place to work? We are looking for a Deputy Chief Operating Officer to join our team. If you think that could be you, please read on.
Who are we?
VITALITE Zambia Limited is a Zambian registered company founded in 2013. VITALITE was created to increase rural electrification and combat the poverty tax affecting low-income, energy-poor households across Zambia.
Our mission is to make quality products and services accessible and affordable to all Zambian households. We pride ourselves on having been the first to pioneer a fully integrated pay-as-you-go (PAYGO) service in Zambia and aim to become the country's leading rural service and distribution company.
According to an independent survey of our customers (run by impact reporting agency, 60 Decibels in March 2021), 88% find we've very much improved their quality of life.
What's it like to work here?
We have built a vibrant and dynamic team in which all of us are treated fairly and given equal opportunity to progress
• We work in an emotionally safe environment within which we all have the opportunity to fully express ourselves
• Everyone is encouraged to create positive impact for themselves, their colleagues and our customers by taking full accountability for what we do every day.
According to an independent survey (run by global gender advisory firm, Value for Women in February 2021):
94% of team members feel respected by their colleagues
• 97% of team members like our mission and purpose
• 86% of team members believe men and women have equal career opportunities
• 94% of team members believe issues of sexual harassment are taken seriously here
• 89% of team members believe we encourage open and honest communications
What is the job about?
The COO department is at the heart of VITALITE coordinating and supporting the day-to-day running of VITALITE. The COO department envisions and develops new initiatives that improve operational efficiency and business performance. This is a new department with direct responsibility for executing and realising the company strategy and its many performance targets – both directly and indirectly by supporting and ensuring other departments are operationally efficient and supported to achieve their targets.
This is a highly exciting role for someone looking to have big-picture impact and a great diversity of responsibilities.
In particular this role will give a very strong understanding on how businesses perform and how that performance can be enhanced and improved upon. The Deputy COO will work closely and directly with the COO, getting a high-level exposure to everything operational at the company as well as be directly responsible for managing projects and operational efficiency deliverables.
Duties and Responsibilities:
Project Management and support in particular COO launched business
improvement/operational efficiency projects and larger cross-departmental change management projects
Task Management – Identify and set up improved task management systems and in particular maintain and manage performance on task execution. Work with departments to consolidate existing tasks and ensure task management systems are used to drive progress.
 Standard Operating Procedure development – Develop and maintain a company-wide portfolio of SOPs, develop new SOPs where there are gaps, and improve on existing SOP where needed
 Annual planning process, budgeting, business plan development
Business Performance management, and business performance analysis
Develop an Operating Committee to accommodate discussion, coordination and prioritization of internal change management and business performance activities
 Development and dissemination of tools, policies, systems
 Develop system thinking approach for complex multi-stakeholder areas such as customer issue resolution and sales performance management
Supply chain management, stock level management and forecasting
Development of Productivity, collaboration and communication protocols, SOPs and tools.
 Cost performance management and analysis
 Transform to a Data driven organization – Develop culture, systems and SOPs that transform the company to become more data driven
Identify, develop and run strategic partnerships in particular with operational impact
Customer Experience, Technical After Care, Product specialization possible
Minimum Requirements:
Bachelor's degree in Electrical Engineering, Engineering, Operations, Computer science or business administration with a strong preference for Industrial Engineering or Electrical Engineering, Master's degree and Bachelor or Master's Degree from any accredited University
3+ years of experience in Operations management and/or Management consulting
 3+ years of management Experience either through project Management or other managerial roles
 Experience in similar roles to design, implementing and lead change on business processes, business improvement and operational efficiency is highly desirable
Very strong literacy in Microsoft Office/Google suite products, in particular Microsoft Excel/Google Spreadsheet.
Excellent English in writing and communication
Female candidates are encouraged to apply
How to apply
Please email your up to date CV, copies of your Academic Qualifications and 2 references from prior employers to [email protected].
Incomplete applications will be disqualified so please take care to ensure you've included everything.