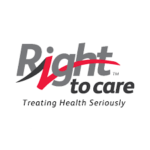 Right to Care is at the vanguard in supporting and delivering prevention, care, and treatment services for HIV and associated diseases. We work with government and communities to find pioneering solutions to build and strengthening public healthcare.
We embrace a strong entrepreneurial culture and focuses on innovation and the use of technology to enhance services, address skills shortages, and deliver quality healthcare outcomes. Our areas of expertise include HIV and TB care and treatment, pharmacy automation, medical male circumcision, and cervical cancer diagnosis and treatment.
Right to Care Zambia has been awarded a five (5) year project funded by the USAID through the PEPFAR mechanism. The Maintained Epidemic Control of HIV (MECH) Project aims to reduce HIV mortality, morbidity and transmission by achieving the UNAIDS and PEPFAR goal of 95/95/95 HIV treatment coverage by providing comprehensive HIV Prevention, Care and Treatment maintenance services in Luapula, Northern and Muchinga provinces of Zambia. The MECH project will work closely with and in support of the Ministry of Health.
About the Position
Request to Hire ef. No.: RTCZ21-083
Date advertised: 20th August 2021
Closing date: 25th August 2021
Position: Deputy Chief of Party – MECH
Location: Kasama, Northern Province
Contract type: Fixed-Term
Contract duration: Two (2) Years
Reporting to: Chief of Party
Job grade: TBA
Contact Person: Vacancy14
Contact email: [email protected]
Qualifications and Experience
Minimum Required Qualifications and Experience:
MBCHB
Master's Degree (Social Science, Public Health, Humanities, Medical Doctor)
10 years' experience in public health/social development.
6 years proven track record in leading and managing NGO's/NPO's as well as implementing development programs.
Desirable Qualifications and Experience:
Master's Degree (Commerce, Business Administration, Medical Doctor, Leadership)
5 years' experience in a senior management position and working on large donor projects in the public health sector, particularly in designing, setting up and coordinating HIV/AIDS monitoring, evaluation and impact assessment systems and processes in multiple countries.
In-depth understanding of the PEPFAR Epidemic Control strategy and the NASF
In-depth understanding of program issues and policy work at local, national and international levels.
Demonstrated ability in writing and presenting programs.
Sound and up to date knowledge of development concepts, methodologies and techniques including demonstrated expertise in HIV/AIDS.
3 years' experience working in one or more African countries.
Technical and Behavioural Competencies
HIV programme management
Stakeholder relationship management
Budgeting and financial management
Project Management skills
Computer literate
Knowledgeable in Microsoft Office
Coaching, Training and Facilitation skills
Good communication and interpersonal skills
Key Performance Areas
Assist the Chief of party in the Implementation and development of RTCZ-MECH's vision, mission, philosophy and principles in line with agreed strategies and organisational priorities across the three provinces
Conduct Clinical Project Review and participate in Project Management Review according to regional guidelines and interfaces with appropriate functional leadership to achieve positive outcomes.
Manage expenditure for the 3 provinces in accordance with approved budgets and USAID financial regulations.
Ensure Human Resource expertise are employed timeously, inducted, developed and motivated to execute the objectives of the program.
Develop and maintain relationships with all stakeholders in the three provinces where applicable i.e. Donors, Government, Health Ministries, Partners.
Disclaimer
By applying for the above-mentioned position, you consent to Right to Care to conduct qualification, ID, criminal and reference checks (internal and external) which forms part of the Company's recruitment policy and procedure. Should you not receive a response to your application from Right to Care within one month of this advert being placed, kindly consider your application as being unsuccessful.
Only applicants meeting the strict criteria outlined above will be contacted as part of the shortlisting process. Right to Care reserves the right to withdraw the vacancy at any time for whatever reason.
Right to Care is an equal opportunity affirmative action employer. The Company's approved Employment Equity Plan and Targets will be considered as part of the recruitment process. As an Equal Opportunities Employer, we actively encourage and welcome people with various disabilities to apply.