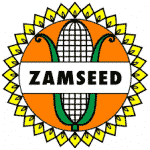 EMPLOYMENT OPPORTUNITY
Zambia Seed Company Limited (ZAMSEED) is an agricultural input provider operating in Zambia and selected SADC/COMESA countries.  Its main objective is to develop, produce and market high quality seed of all agricultural as well as horticultural crops of major importance.
The company is inviting applications from suitably qualified persons to fill the position of Depot Sales Clerk (Chipata).
A. Responsibilities
1. Product Display
Ensure products are well displayed
Ensure all products have price tags
Replenish display stocks as need be
Ensure the premises are kept clean and habitable
2. Helping clients understand product lines
Explain to customers the performance of products
Give flyers and other supportive material
Offer after sales linkages with Extension Officers
3. Offer technical support to the Regional Sales Manager
Avail products for mobile sales
Avail statements, POPs and any depot related function
Advise on any needed customer linkages
4. Facilitate and coordinate Extension Officers operations
Issue out stock, books and display material and anything that will aid their field operation
Coordinate their sales and deposits thereof against their Internal Transfers
5. Conducting and coordinating sales related issues
Receive/request for seed from Head Office
Issue out Internal Transfers to RSM and EOs
Offer Sales support to walk in customers
Post sales i.e., cash, credit and returns in the system
Ensure products that come in and go out are reflective in the Kardex for easy coordination
6. Ensure banking of accrued sales on a regular basis
7. Ensure good rapport with accounts and stores for monetary and stock consistency in the system
B. Minimum Qualifications & Experience
Must have successfully completed a Diploma in Agriculture Business Management or General Agriculture
Must be computer literate
Must be conversant in Pastel
Applications with detailed Curriculum Vitae should be attached as one document with Applicant names as title.
All applications must be submitted to [email protected] by 9th March 2022.
GOODSEED PURESEED ZAMSEED