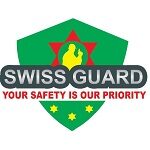 Swiss Guard Security Services
Listed below are the main duties to be performed;
Supervision of guards/officers and supervisors
Preparation and submitting of weekly/monthly performance reports
Weekly and monthly client visitation
Verification and submission of payrolls
Continuation of Training of guards/officers
Coordinate daily activities on the ground/patrols
Investigation of crimes
Hold parades in both day and night shifts
Ensure cleanliness and soberness before deployment
Undertake client visitation on routine basis
Daily briefing with supervisors
Inspect registers for officers on a weekly basis
Inform Control of any incidents on the ground and report to the Superintendent
Any other delegated duties ATTRIBUTES
Strong communication skills
Sober minded
Strategic thinker
Excellent Time management skills
Self motivated
Good observer
Paying attention to detail
Qualifications and Experience
Grade 12 school certificate
Experience in Security Management and Investigations
5 – 8 years working experience in a similar role or capacity 8
Certificate or Diploma in Security management
Demonstrate experience in staff management
Able to work long hours.
Send applications to
[email protected]
or bring it to House # 11, plot number 39204 off Benakale road, Northmead.
Deadline is 13th April,2021.