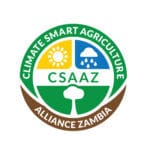 Climate Smart Agriculture Alliance Zambia
The Organisation
Registered under The Non-Government Organisation Act of 2009 through the Ministry of Community Development and Social Services, the Climate Smart Agriculture Alliance Zambia (CSAAZ) under the guidance of Ministry of Agriculture is designed to support the rapid adoption of Climate-Smart Agriculture (CSA) in Zambia through collaborative efforts and practical experiences of Alliance members in the agricultural sector in Zambia.
The Alliance derives its mandate from the Zambian Government being party to the Equatorial Guinea Malabo Declaration, at which the Heads of States and Governments of the African Union Committed to Enhancing Resilience of Livelihoods and Production Systems to Climate Variability and other related risks. Through the New Partnership for African Development (NEPAD), the Alliance was tasked to develop a strategy that will ensure that, by the year 2025, at least 30% of our farm, pastoral, and fisher households are resilient to climate and weather-related risks.
With funding from its local and international partners CSAAZ is looking for qualified, experienced and self-motivated individual to participate in a National wide data collection exercise.
Data Enumerators Officers
Scope of Work:
To participate as data collectors for field-based exercises, such as surveys, Key Informant Interviews, and Focus Group Discussions.  Enumerators are responsible for ensuring that quality data (qualitative and/or quantitative) are collected ethically and in a timely manner from participants and are transmitted to a central repository for further review and analysis.
Responsibilities
Respectfully communicate the objective(s) of field-based research to participants using easy-to-understand language.
Obtain verbal or (when possible) written informed consent from participants in all data collection exercises.
Administer structured and semi-structured questionnaires and record data on provided forms, using tablets
In collaboration with the team leads, ensure the timely transmission of data to a central repository for further review and analysis.
Report, in a timely manner, any complications that arise during data collection to a site coordinator or research coordinator.
Attend and actively participate in enumerator training and all data debriefing meetings
Keep all data collecting instruments secure and in good working condition.
Participate in the recruitment and screening of study participants.
Moderate Focus Group Discussions and carry-out in-depth interviews
Transcribe all recorded interviews and take detailed notes that can be used to aid data analysis.
Qualifications:
Degree in social sciences related field or their equivalent. Recent graduates are encouraged to apply.
Previous experience in carrying out similar assignments
Maturity and computer literacy
Strong oral and written communication skills in English and fluency in Bemba/Nyanja or other local languages as relevant.
Experience conducting qualitative research (FGDs and or IDIs), including interviews and transcribing (desirable but not a must).
Experience in collecting quantitative data using electronic tablets for data collection.
Willingness to travel within Zambia, including to remote rural areas of all ten provinces.
Reporting:
Reports to Survey Manager
How to apply:
The National Coordinator
Climate Smart Agriculture Alliance Zambia
Lusaka
Send your CV via the following email address: [email protected] and copy [email protected]
Applications close: 25th October 2021.
Find Zambia Jobs – The best job board for Jobs in Zambia