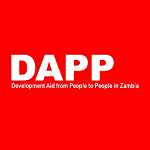 Development Aid from People to People (DAPP) is a nationally registered NGO working with development projects within the field of education, health, agriculture and other poverty alleviation programmes. Projects are carried out in all the provinces of Zambia reaching over 1 million people. Key funding partners include the Government of Zambia, national and international development organisations (USAID, CDC, EU, Global Fund, WFP and others) as well as private sector organisations.
DAPP in Zambia is seeking qualified and experienced individuals to fill the following positions for the Total Control Epidemic (TCE) project tenable in the following Provinces: Lusaka; Southern; Eastern; Western.
Data Clerks
Job summary
To enter data from various sources into the company database for processing and periodically creating reports based on the information.
Key Duties and Essential Job Functions
Checking, compiling and analysing data received from District Managers, Field Officers and clinics under the supervision of the Data Associates while checking for correctness as data of all results achieved in districts is entered into the TCE DHIS2 database on a daily basis.
Coordinate with the Data Associates to ensure the data uploaded on the database matches what is prevailing at the HFs.
Take part in data quality audits and routine DQMIS.
Assist the Data Associates in coming up with visuals of results in presentations for meetings and all program reports by providing the necessary data.
Ensure validated HTS and retention data is timely uploaded on the TCE database, provide the Data Associates with updated data and file all reports accordingly.
Collaborate with field staff, Data Associate and the TCE District Coordinator.
Provide mentorship to field staff in data reporting and utilizing SmartCare to document Community data and also ensure that data is consistent with physical registers.
Document and communicate different data related issues and challenges to the TCE District Coordinator as well as the TCE Monitoring and Evaluation Officer. The Data Clerks will also escalate failed issues to the District Coordinator as well as Monitoring and Evaluation Officer when solutions at district level fails.
Required qualifications
Certificate or Diploma in Statistics/ Computer Studies/ Records Management or its equivalent. (Certificate in Monitoring and Evaluation is an added advantage)
Knowledge of SmartCare is an added advantage
One (1) year experience
Preferred qualities
Excellent written and oral communication skills
Excellent organisational skills
Have integrity
Ability to work both independently and as an effective member of team player
Quantitative and Qualitative skills
Computer literate
Adept in key punching
Applying for the Job
Qualified persons should submit a cover letter with a detailed Curriculum Vitae (CV), by email to:
Lusaka Province
Nkanchibaya Road, Plot No 6, Rhodes Park, Lusaka.
E-mail: [email protected]
[email protected]
[email protected]
Southern Province
DAPP TCE South Provincial Office, Plot No: 175, Pemba, Livingstone Road, Hamazongo Area.
E-mail: [email protected]
j.kanyandadappzambia.org
[email protected]
Eastern Province
Plot No. 1006 Kalongwazi Extension, Kalindawalo Road, Chipata.
E-mail: [email protected]
[email protected]
Western Province
DAPP TCE Mongu, Plot No. 3079, Mwanawina Road, Mongu.
E-mail: [email protected]
[email protected]
[email protected]
Copies of certificates and other credentials must not be submitted at this stage.
The position title must be indicated in the subject area of the email.
The cover letter and CV must be one continuous document, and the applicants full names must be used as the file name for the document. Please indicate your current, or last salary and benefits in the cover letter.
The closing date for receiving applications shall be 4th November, 2021.
DAPP is an equal opportunity employer. Please note that only short listed candidates will be contacted.