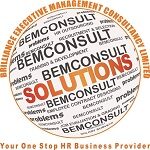 Website Brilliance Executive Management Consultancy
Description:
Job Purpose
The Credit Officer will take the lead in identifying, formulating, and reviewing financial and credit risk management policies and ensure that appropriate systems, procedures, and guidelines are in line with best banking practices. Oversee the setting up payment plans for clients explaining monthly instalment amounts, interest rates, and other costs. Managing loan renewals by organizing follow-up meetings with premium and corporate clients.
Summary of Key Responsibilities;
Evaluate credit and investment risks of loans, guarantees and investment activities; identify, measure, and mitigate the risk of new transactions and make recommendations regarding deal structuring, pricing with a focus on financial intermediaries (i.e. private equity funds), among others.
Monitoring the progress of the loan application process and relaying any hindrances to clients.
Ensuring that loan applications are in line with the bank's financial policies, as well as state laws and regulations.
Ensure that monthly returns are submitted to BOZ within the set deadlines and ensure the Bank is in compliance with all prudential regulations.
Review proposed credit risk ratings based on the country, sector, market and counterparty financial analysis provided in the project appraisal documents, and recommend appropriate ratings; continuously monitor and recommend changes of counterparties' credit ratings.
Write credit risk opinions related to new transactions, annual/quarterly reviews, waiver and amendment requests according to lending policy requirements
Perform industry studies and run/request financial model sensitivities when applicable to support credit risk analysis and associated credit risk recommendation to senior management
Ensure that the credit portfolio is healthy, closely and well monitored
Ensure comprehensive identification, assessment and mitigating of Credit risk in all proposals and submission for approval within a set turnaround time.
Meeting with clients interested in taking out a loan and providing them with the necessary information to start the loan application process.
Ensure that audit reports pertaining to the credit department are acted upon.
Collecting the needed financial documentation and assessing the clients' creditworthiness.
Report any credit events that may result in a breach of covenant or credit risk deterioration to the underlying borrower and/or industry.
Calculating and analysing the risk ratios of clients based on their credit score and financial history.
Approving or denying loan requests, and communicating your decision to both clients and management.
Continuous review of existing credit facilities and help in managing the portfolio
Required Skills and Personal Attributes
Good oral and written communication skills in English
Attention to detail
Exceptional analytical skills
Ability to work with complicated financial data
Excellent organizational skills
Ability to work well under pressure
Strong ethical behaviour
Qualifications and Experience
Bachelor of Science in Accounting, Finance, Banking, Business, or a similar field.
Must have a minimum of 5 years experience as a Credit Officer or in a Credit Environment in a Commercial Bank
Must have proven experience in handling credit/advances in a Commercial bank
Excellent knowledge of loan application procedures and best lending practices according to local laws and regulations.
Ability to work with loan management software (such as Lendstream, CreditOnline, and FileInvite)
Must be experienced in working with sensitive financial information
Familiarity with credit-enhancing mechanisms, risk mitigation and treatment of collateral regarding credit and investment exposures will be a plus
Must be a member of a relevant professional body
If you meet the minimum hiring requirements for the above position, please email your CV and Cover letter clearly stating your salary expectations to [email protected] and copy-in [email protected]

Note that, all communications will be kept in the strictest of confidence. If you do not receive communication within 21 days of the closing date of the advert, please consider your application unsuccessful.
DO NOT SEND CERTIFICATES AT THIS STAGE