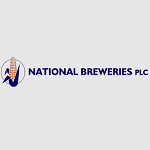 National Breweries Plc is Zambia's leading producer and distributor of Traditional African Beer. Our affiliation to Delta Beverages gives our employees a sense of pride and that of belonging to one of the biggest international brewing companies in the world. The Company offers opportunities for all to learn develop and grow, whilst offering challenging career opportunities for lateral or vertical advancement.
We are inviting applications to fill the following vacant position: 
Job Title: Credit Controller
Location: Lusaka                  
Contract: Permanent
Reporting to the Finance Manager, the successful candidate will be accountable for the following: 
Monitor all customers on credit including distributors, wholesalers and key accounts
Ensure customers operate within their individual credit limits or call for suspension of deliveries until they comply with the company trading terms.
Monitor the status of debtors' records to ensure that they reflect an accurate position.
Ensure monthly printing and delivery of statements
Ensure printing of daily Aged Debtors Trial Balance as required.
Issue reminders and other mechanisms to ensure timely collection of outstanding balances.
Attending and handling customer queries on statement balances and systems related problems.
Assist with monthly Debtors Control Account reconciliation.
Ensure refunds are made for credit balances where refunds are due.
Ensure that all debtors' receipts are accurately processed in the System.
Preparing all required details for accounts to be handed over for action.
Assisting in preparing a list of bad debts and doubtful debts.
Ensure centres have safe storage space for all credit control documents and facilitates easy access and availability of back-up information for customers.
Ensure that all payments and journals are processed and matched against customer balances.
Issuing reminders and other non-confrontational mechanisms to ensure collection of outstanding balances.
Initial customer vetting and collection of collateral as appropriate.
Develop Credit Control Policy
Ensure debtors payments are done within the agreed times and advise if there are any deviations to Credit Control policy.
Ensure debtors collections are done with minimum cost and minimum risk.
This job is particularly suitable for candidates who meet the following minimum requirements: 
A minimum academic qualification of Degree in Accountancy or equivalent
At least 3 years' experience in an accounting environment
Honest, Hardworking, Diplomatic, attention to detail and good communication skills
Candidate must be available immediately
SUBMISSION OF APPLICATIONS
Interested persons should send their applications and CVs not later than 12th September 2021 to;
The Human Resources Specialist
National Breweries Plc
Sheki Sheki Road
PO Box 35135
Lusaka
All applications must be sent online to [email protected]. (Only shortlisted candidates will be communicated to & all attachments should be in a single PDF File. Kindly state the position in the subject line).