Full Time
Applications have closed.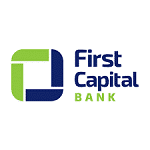 First Capital Bank Zambia
EMPLOYMENT OPPORTUNITY
About First Capital Bank
Formerly known as International Commercial Bank Zambia Limited, First Capital Bank commenced banking operations in June 2010. In July 2013, the bank was acquired by a group of investors led by FMBcapital Group and rebranded as First Capital Bank. FMBcapital Group has banking operations in Botswana, Malawi, Mozambique, Zambia, and Zimbabwe, with its Head Office in Mauritius.
With a flexible and innovative customer-focused approach, First Capital Bank operates in all sectors of the Zambian market servicing the needs of the following market segments: Retail, Small to Medium Sized Business, Corporate and Institutional Banking.
We offer a comprehensive range of financial products ensuring that our services are relevant and of value to our customers.
CORPORATE CREDIT MANAGER
Reporting to the Chief Credit Officer, the Corporate Credit Manager will be responsible for credit proposal analysis and the enforcement of credit policies and regulatory guidelines within the Bank's lending activities.
Roles and Responsibilities
Credit Appraisal
Review of lending proposals submitted from Credit Analysts and Relationship Managers.
Setting of covenants and risk triggers to be incorporate into lending proposals.
Collaboration with Relationship Executives on Client engagements requiring Credit expertise.
Presentation and recommendation of Credit requests to Credit Committees.
Review of facility collateral parameters to ensure Credit risk is mitigated.
On-going Risk Management
Risk trigger setting, covenant design, measurement and review.
Credit policy and Risk Appetite statement formulation participation, reviews and updates.
On-going Credit risk management and recoveries strategy formulation.
Daily on-going Credit risk management.
Team management of Credit support staff.
Credit Operations
Overview of disbursement of credit facilities in line with sanction terms and policy.
Overview of collection of credit-linked revenue.
Establishment of controls in the Credit operations functional areas.
Experience, Qualifications and Skills
Degree in Finance, Accounting, Economics, ACCA or CIMA
5 Years of experience in a Commercial lending environment
Demonstrable leadership experience
In-depth understanding of Credit policies and frameworks
Experience in distressed asset remediation and recoveries
Detailed understanding of IFRS9 impairment methodology
Detailed knowledge of the Banking and Financial Services Act and other regulations governing commercial bank lending activities.
Application Process
Suitable applicants are encouraged to send by email, a detailed CV, copies of qualification certificates and a cover letter. The email should be sent to [email protected] and carry the subject CORPORATE CREDIT MANAGER.
Closing date for applications is Wednesday 28th September 2022.
Only shortlisted applicants will be communicated to.