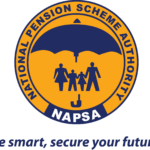 National Pension Scheme Authority
The National Pension Scheme Authority (NAPSA) wishes to fill the positions
indicated below. Interested applicants who meet the required competences are encouraged to apply.
The successful candidates will be expected to have demonstrable competencies relevant to the job.
1.0 Corporate Branding Officer NC05 (One Year Contract): Head Office
1.1 Main Purpose of Job
To develop and manage the Authority's visual identity and
maintain the desired public perception of the brand as part of
NAPSA's communication and marketing strategy.
1.2 Key Responsibilities
a) Initiates the development of the brand strategy, including the setting of style guides, brand guidelines, brand vision and value proposition for short as well as long term
b) Plans and develops creative ideas and concepts and implements those ideas into visual concepts
c) Creates design solutions that have a high visual impact and of international standards
d) Interprets business needs and objectives and develops design concepts to suit the requirements
e) Develops design briefs by gathering information and data through research
f) Presents designs and concepts in a clear and concise manner for the public to understand
g) Designs layouts and artworks for branding materials such as banners, billboards, teardrops, pull ups and other branding materials in ready-to print format
h) Designs and produces in-house publications such as promotional flyers, reports, brochures, newsletters, press releases, festive season cards, booklets and other communication materials
i) Works with other staff in the production of TV, audio and digital content for marketing and communication
j) Does photography for various Authority activities for communication purposes
k) Helps in the planning, development and implementation of public relations action plan and strategies
l) Assists planning and execution of Authority events
m) Coordinates and facilitates branding and communication activities for the Authority.
n) Prepares weekly, monthly, quarterly and annual activity reports on branding activities and trends to provide support to the Head Corporate Affairs in evaluation of the corporate strategy implementation and provide information for future direction and strategic decision.
1.3 Qualifications and Experience
Grade 12 Certificate with 5 'O' levels with credit or better including Mathematics and English;
Bachelor's Degree in Mass Communication/Journalism Marketing and Advertising/ or other related field;
Certificate in Web and Graphics Design/Certificate in
Graphics Design/Certificate in Desktop Publishing/
Certificate in Print Technology added advantage;
Not less than three (3) years of relevant experience in an
organisation of similar size.
TO APPLY
Your application letter should be accompanied by a CV and copies of relevant certificates and should also specify your contact address and telephone number(s).
Application letters should be addressed to:
Director Human Resources and Administration
National Pension Scheme Authority
Levy Business Park
Church Road
P.O. Box 51275
LUSAKA
The closing date of receipt of applications is Monday, 8th February, 2021.
PLEASE NOTE THAT:
ONLY APPLICANTS WHO MEET THE SPECIFICATIONS INDICATED
ABOVE WILL BE SHORTLISTED.
ANY FORM OF LOBBYING WILL LEAD TO AUTOMATIC
DISQUALIFICATION OF THE CANDIDATE
BE SMART, SECURE YOUR FUTURE