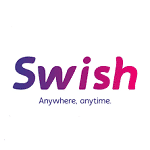 Website Swish Pay
Payments - Anywhere, anytime
Position Advertised: Consumer Services Team Lead
Location: Lusaka, Zambia
Contract: 2 Years – renewable
Probationary Period: 3 Months
Reporting to: Head – Client Services
Who's Hiring?
Swish Pay is Zambia's fastest growing Merchant Payment Platform offering secure, convenient and rewarding payment processing services. Swish Pay connects consumers to merchants through innovative payment services enabling cashless payments right from our street-side vendors to large retailers. Swish Pay is not a wallet, rather offers the flexibility to securely pay directly from your Visa, MasterCard, or Mobile Money wallets. Our team thrives on innovation, technical awesomeness, being somewhat security paranoid but all-in-all puts our customer needs first!
If you're on the look-out for an exciting opportunity, we're looking to find you! We need a dynamic individual that can fit right in and create awareness and adoption of Swish Pay across the country.
If you are an individual that believes in the future of cashless payments, innovative, fearless and want to be on the winning team to drive financial literacy in this country, we are the team for you!
Job Description
The role of the Consumer Services Team Lead is to identify, engage and manage the consumer engagement process and drive the adoption and utilization of the Swish Pay platform.
What you'll be doing:
1. Lead, train and manage the Consumer Activation team in identification and professional engagement of consumers to use the Swish Pay App.
2. Plan and deploy the Consumer engagement strategy to maximize results from consumer activation activities.
3. Be involved in day-to-day consumer activation engagements at various strategic locations.
4. Ensure prompt and adequate reporting on activities of the team and make recommendations for improvements where required.
5. Drive awareness of the platform to ensure maximum consumer activation and service utilization.
6. Work with technology teams to identify gaps, propose improvements and ensure improved consumer experience optimization.
7. Closely work with the Merchant Acquiring teams to deploy activation plans for areas with appropriate Merchant presence.
8. Be responsible for measuring and monitoring the results of Consumer activation activities.
9. Working with the marketing teams in developing appropriate collateral and campaigns to drive publicity and brand awareness.
Experience
1. Excellent oral and direct sales skills
2. Must be energetic, vibrant and have excellent team leadership skills
3. Must be very conversant with mobile payment applications
4. Consumer engagement experience is a must
5. Ability to identify and implement marketing activities
6. A minimum of 3 years work experience in consumer engagement, direct selling and marketing
7. Experience being a supervisor/team lead position
How to apply?
Send us a ONE-pager about yourself, your professional background and why you are suitable for this role. Short listed candidates will be contacted for detailed CV's and other requirements. You can email your ONE-pager to [email protected]