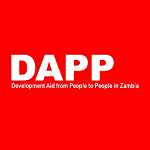 DAPP Zambia is a non- governmental organisation that has in the last 20 years, been actively involved in long term development projects in Zambia. DAPP in Zambia is working in various thematic areas namely Education, Community Development, Agriculture and Rural Development, Health including the fight against HIV and AIDS.
The organisation strives, through the implementation of its projects, to work with the needy by providing knowledge, skills and tools that empower them and their families to face and overcome the challenges of everyday life.
DAPP is now seeking a qualified, highly motivated and competent individual to take up the position of the Construction Supervisor.
The position is for one year and is tenable in Ndola.
Job Summary
To support and supervise all construction works being undertaken from commencement of the construction works to the end. The task also involves designing of construction drawings, BOQs, schedule of materials,  formulating the TORs for contractors, planning for  staffing,  organizing, maintenance, setting schedules, timing of deliverables, conducting quality control and  reporting on construction project works.
Duties and Essential Job Functions
Leads and coordinates the construction team's monthly and quarterly planning, as well as review sessions by providing leadership.
Carries out site assessments prior to finalization of drawings and Bills of Quantities (BOQs).
Designs structural drawings and prepares BOQs for new infrastructure, as well as existing infrastructure that may require renovations.
Makes construction budget by monitoring project expenditures; identifying variances; implementing corrective actions; providing non-project annual operating and capital budget information.
Complies with legal regulations, ensuring that all drawings, certifications and approvals from the authorities are in place/order.
Manages sub-contractors by locating, evaluating and selecting sub-contractors; monitoring and controlling performance.
Ensures that the quality of acquisitions meets the technical specifications and required standards.
Ensures that all construction staff uphold good morals and ethics according to the organizations policies and guidelines. This includes Accountability, Compliancy and Transparency (ACT).
Ensures that the DAPP Administration Office Block and HQ constructions to be carried out by contractors are carried within the time frame, with quality control.
Other functions and responsibilities
May be required to carry out other tasks as assigned to by the superiors or management
Qualifications and preferred qualities
Diploma/degree in Civil Engineering or in Construction related works
Computer skills in Microsoft Office applications and design software, such as Autodesk, AutoCAD Civil 3D and Micro Station.
Excellent verbal, written and visual communication skills
Honest and reliable, with the ability to work with a team to achieve goals through teamwork
Membership of Engineering Institute of Zambia, or other relevant Zambian professional body
A minimum of 3 years' practical experience for Degree holder and 5 years practical experience for Diploma holder; in construction, construction management/ construction administration, in order to interpret contract documents, specifications as well as recommended changes and ensure compliance to specifications and quality work standards.
4. Application Method
Application letters with detailed CV inclusive of a minimum 3 professional referees must be received by 25th August, 2021. The cover letter and CV must be one document, and the applicant's name must be the title of the file (document).
Do not attach certificates and other documentation at this stage.
Indicate the job title as the subject of your email.
Please submit your applications by email only to: 

[email protected]

, with copy to 

[email protected]

.
Only shortlisted candidates will be contacted.