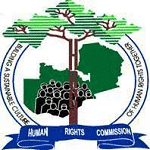 Human Rights Commission
The Human Rights Commission is hereby inviting applications from suitably qualified and experienced individuals to fill the following position.
Chief, Investigations and Legal Services (1) – Salary Grade: HRC/i
QUALIFICATIONS
a) Candidates must be Zambian with a minimum age of 30 years
b) Have a Law Degree with Law Practice Certificate
c) Have 5 years post qualification experience 3 of which should be at Senior Management level
DUTIES
The successful candidate will report to the Director and will be responsible for:
a) Ensuring prompt, thorough and impartial investigations are carried out in order to ascertain the abuse of human rights.
b) Ensuring timely preparation and submission of investigations reports to the Commission in order to facilitate redress of grievances.
c) Providing and co-ordinating timely provision of legal advice to the Commission in order to facilitate appropriate interpretation and application of the law.
d) Supervising effectively human resources and other resources in order to enhance the overall performance of the department.
e) Ensuring effectively the preparation of complaints statistics of reported cases in order to provide accurate information to the end users.
f) Initiating and recommending regularly the review of existing legislation in order to remove provisions which are incompatible with the constitution, other laws and international human rights standards.
All applications should be addressed to the undersigned not later than Thursday 28th October 2021.
Applicants should enclose Curriculum Vitae's and photocopies of relevant certificates. Original Certificates must be produced during interviews for the shortlisted candidates. Applicants are encouraged to bring their applications in person or send them by post. Telephone enquiries will not be entertained.
The Director,
Human Rights Commission,
Human Rights House (Ministry of Lands Premises)
Independence Avenue
P.O. Box 33812,
LUSAKA
The Human Rights Commission is a National Human Rights Institution established under Article 230(i) of the Constitution of Zambia (Amendment) Act No. 2 of 2016 with a broad mandate of ensuring that the Bill of Rights is upheld and protected.
Women and Persons with Disability are encouraged to apply
Only shortlisted candidates will be contacted