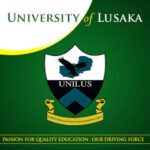 University of Lusaka (UNILUS)
The University of Lusaka is inviting applications from suitably qualified candidates to fill the position of Chief Financial Officer for the University.
Chief Financial Officer 
Reporting to the Vice-Chancellor, the Chief Financial Officer's main responsibilities will be to provide advice on financial matters as well as co-ordinate the financial activities in order to effectively support the University's objectives and evaluate its financial performance.
Summary of Job Responsibilities
Develops and implements internal control systems, policies, and procedures to ensure that the University's interests are safeguarded against inefficiencies.
Participates in the development of the University's strategic plan.
Provides leadership in the development and implementation of the Budget.
Evaluates the University's financial performance against set targets and provides expert guidance on expenditure priorities and revenue-generating activities.
Ensures compliance with all regulatory and reporting requirements as provided for by law and international best practices.
Develops and secures approval, for short and long-term financial plans evaluating the financial implications of operational plans and specifying financial resources required.
Monitors and controls working capital through intelligent financial analysis, and management in order to optimize cash flow whilst deriving maximum returns within the University's risk profile.
Supervises and provides leadership to subordinates to achieve the departmental and University objectives.
Prepares, with the aid of subordinates, all relevant monthly, quarterly, annual, and ad-hoc financial and management reports for Management and the University Council.
Prepares and provides the necessary information to authorized external stakeholders, such as external auditors and other statutory bodies.
Addresses any deficiencies within the department and also plans for resources with management.
Qualifications
Prepares and provides the necessary information to authorized external stakeholders, such as external auditors and other statutory bodies.
A Master of Science in Accounting and Finance or a Master of Business Administration is an added advantage.
Must be a registered member of the Zambia Institute of Chartered Accountants (ZICA) at the Fellowship level.
At least Ten (10) years' experience at Senior Management Level.
Key Qualities and skills
Must be able to work with minimum supervision.
Must have very good interpersonal skills.
Must have very good communication skills.
Must have good planning and organizing skills.
Must be a person of high integrity.
Interested candidates should send their application letters together with copies of their educational & professional certificates, and curriculum vitae with at least three traceable referees to the undersigned. The closing date for this vacancy is 24th September 2021.
The Registrar – Administration
University of Lusaka,
Plot 37413,
Off Alick Nkhata Road, Mass Media,
P O Box 36711, Lusaka, Zambia.
"Passion for Quality Education, Our Driving Force"