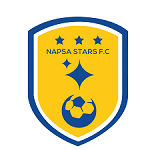 NAPSA Stars Football Club
NAPSA Stars Football Club
Chief Executive Officer
NAPSA Stars Football Club is inviting applications from suitably qualified and experienced individuals for the following job: Chief Executive Officer
Job Purpose
To manage and oversee operations of Napsa Stars Limited (Napsa Stars Football Club). This includes ensuring the sportive and commercial success of the football club through the development and execution of commercial, football and general operations at the organisation.
Under the supervision of the Board of Directors the following are among the job key responsibilities:
Ensure the Club operates according to its mission, vision and values
Put in place an effective management team and structure to efficiently run the affairs of the Football Club
Create and execute the strategic plan for the Club as approved by the Club's Board of Directors.
Oversee the management of the budget including but not limited to effective controls and performance tracking.
Ensure the commercial viability and sustainability of the club by:
Managing relationships with all stakeholders including other football clubs, Football Association of Zambia (FAZ), Confederation of African Football (CAF), media, suppliers and other partners.
Managing relationships with sponsors including identifying sponsorship opportunities and engagement with potential sponsors
Grow the revenue by enhancing existing revenue streams and identifying and executing on additional revenue generating opportunities.
Effectively manage and market the club's brand so as to grow the club's fan base and to support revenue generating initiatives.
Ensure operational excellence is observed in club buildings and facilities, maintenance of club equipment, security of club facilities and equipment and compliance with applicable laws, and football regulations.
Ensure appropriate personnel is appointed (team manager's trainers, runners and other team support staff) to ensure smooth running of the organization, including formulation of remuneration packages.
To review performance of all club personnel.
External Relations
Sponsors
Supporters
Auditors
Professional national and international bodies
Suppliers
Regulators
Internal Relations
Club staff
Technical team
Players
Internal oversight bodies
Qualifications and Experience
Grade 12 certificate or equivalent
Degree in Business Administration or related field
Qualification in sports management MAY be added advantage
Minimum of 5 years' post qualification experience in management position
Previous experience in football management MAY be added advantage
General level knowledge of football rules and regulations
General knowledge of football operations and professional sports team logistics
Financial and budgetary management
Job Core Competencies
Strategy formulation skills
Problem-solving and critical decision-making abilities
Analytical and critical thinking skills
Communication and presentation skills
Business acumen
Risk management
Networking skills
Interpersonal skills
Teamwork
All applications with a detailed curriculum vitae and academic and professional qualifications along with copy of National Registration Card, indicating the position being applied for in the subject line should sent to [email protected] and [email protected] no later than Tuesday, 3 August 2021.
Only shortlisted applicants will be communicated to.
Find Zambia Jobs – The best job board for Jobs in Zambia