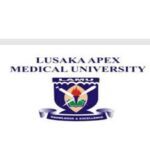 Lusaka Apex Medical University
The LUSAKA APEX MEDICAL UNIVERSITY (LAMU) is a privately owned University, registered by the Ministry of Higher Education under the Higher Education Authority ACT No. 4 of 2013 to provide Higher Education in Medical Education. LAMU is regulated by the Health Professions Council of Zambia (HPCZ), General Nursing Council (GNC), Technical Education, Vocational and Entrepreneurship Training Authority (TEVETA). Lusaka Apex Medical University is looking for a mature, proactive, highly motivated and result oriented Zambian with high degree of credibility to fill in the Cashier Position under the Finance Department.
1. JOB TITLE: CASHIER
2. JOB PURPOSE:
To receive and make payments for goods and services as well as to staff in support of the University activities on a daily basis.
3. MAIN DUTIES AND ACCOUNTABILITIES
Prepares payments by raising cheques on receipt of approved payment requests in respect to suppliers, services providers, i.e. ZESCO, LWSC and statutory payments such as NAPSA, PAYE.
Issues official receipts to all those making payment in respect of fees, charges for use of Campus facilities, staff loans repayments, etc. for record and reference.
Keeps petty cash float so as to facilitate urgent cash payments to staff and for operations.
Disburses cash payments to members of staff for various business activities upon receipt of duly approved requisitions and payment vouchers.
Receives retired imprest from members of staff, ensuring that the support documentation/ receipts are genuine.
Organizes timely reimbursement of the petty cash float to sustain business activities.
Balances the cash book against pay vouchers at the end of business ensuring that all transactions are correctly reflected.
Verifies the accuracy of relevant documents, making calculations of payments on instruction of superiors.
Files correspondence, invoices, receipts and many others according to subject or other systems.
Participates in the preparation of quarterly and annual operational performance reports.
4. PROFESSIONAL QUALIFICATIONS;
5 '0' levels with at least credits in Mathematics and English.
Diploma in Accounts/Licentiate/ACCA level 2.
Current member of ZICA with a valid Practicing license.
Minimum Experience of 2 years
5. ADDITIONAL SKILLS
Computer literate in word, Excel, power point, etc.
Bank Transactions Experience/Knowledge.
HOW TO APPLY
Suitably qualified and experienced persons may send or deliver their applications stating three traceable referees in one document including cover letter, CV, copies of academic & professional certificates.
To:
The Deputy Registrar Human Resources
Lusaka Apex Medical University
Kasama Road, Chalala
P.O Box 31909
LUSAKA
E-mail: [email protected]
Closing Date: 29th March, 2021.