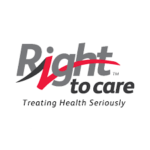 Right to Care
Right to Care is at the vanguard in supporting and delivering prevention, care, and treatment services for HIV and associated diseases. We work with government and communities to find pioneering solutions to build and strengthening public healthcare.
We embrace a strong entrepreneurial culture and focuses on innovation and the use of technology to enhance services, address skills shortages, and deliver quality healthcare outcomes. Our areas of expertise include HIV and TB care and treatment, pharmacy automation, medical male circumcision, and cervical cancer diagnosis and treatment.
Right to Care Zambia has been awarded a five (5) year project funded by the USAID through the PEPFAR mechanism. The USAID Action HIV project aims to reduce HIV mortality, morbidity and transmission by achieving the UNAIDS and PEPFAR goal of 95/95/95 HIV treatment coverage by providing comprehensive HIV Prevention, Care and Treatment maintenance services in Luapula, Northern and Muchinga provinces of Zambia. The USAID Action HIV project will work closely with and in support of the Ministry of Health.
ABOUT THE POSITION
Request to Hire No: RTCZ
Date advertised: 14th May 2022
Closing date: 18th May 2022
Position: Caregiver
Location: Lusaka – Chawama
No. of Vacancies: 01
Contract duration: 1 year 6 months
Contract type: Volunteer
Job grade: TBA
Reporting to: enior Scientific Officer
Contact email: [email protected]
Contact Person: Vacancy24
QUALIFICATIONS AND EXPERIENCE
Minimum Required Qualifications and Experience:
Nyanja (fluent), Bemba (intermediate to fluent), English (some)
Grade 9 education, Grade 12 preferred
Some ECD or MCH experience
Previous worked as CHW or CBV
Some experience with HIV-positive patients and the needs HIV-positive households
Resides in Chawama, no plans to relocate out of Chawama in next few years
TECHNICAL AND BEHVIOURAL COMPETENCIES
Confidence & Self Control.
Ethics and Integrity
Initiative
Professionalism
Confidentiality
KEY PERFORMANCE AREAS
Visit research participant's homes every other week for about one hour.
Counsel the infant's mother on the following topics: child nutrition and feeding, taking care of mom, opportunities for infant learning and safety.
Play with the child and make suggestions of how to help the child learn new skills like speaking and walking.
DISCLAIMER
By applying for the above-mentioned position, you consent to Right to Care to conduct qualification, ID, criminal and reference checks (internal and external) which forms part of the Company's recruitment policy and procedure. Should you not receive a response to your application from Right to Care within one month of this advert being placed, kindly consider your application as being unsuccessful.
Only applicants meeting the strict criteria outlined above will be contacted as part of the shortlisting process. Right to Care reserves the right to withdraw the vacancy at any time for whatever reason.
Right to Care is an equal opportunity affirmative action employer. The Company's approved Employment Equity Plan and Targets will be considered as part of the recruitment process. As an Equal Opportunities Employer, we actively encourage and welcome people with various disabilities to apply.
Right to Care Zambia is aware of fraudulent activities by certain individuals claiming to be representatives of the organization.
Be advised that Right to Care does not charge any fee at any stage of the recruitment process, and as such Right to Care Zambia assumes no responsibility for any announcements or activities by such individuals or entities.