Full Time
Applications have closed.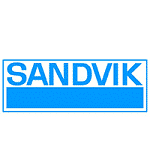 Sandvik
Location: Zambia, Kitwe, Zambia
Business Line Manager Automation – Central Africa
About Sandvik:
Sandvik Mining and Rock Solutions is a global leading supplier in equipment and tools, parts, service, automation, digital and technical solutions for the mining and construction industries. Applications include rock drilling, rock cutting, loading, and hauling, tunneling and quarrying.
The focus lies on bringing value to customers through high-performing products that increase productivity and safety as well as to provide services and flexible maintenance programs that extend uptime and cut costs.
At Sandvik, we believe that cognitive diversity of educational background, experiences, interests, views etc. will lead to a better environment for our employees, our business and, thereby, our customers. We offer a diverse range of opportunities through our businesses and cross-border networks, enabling you to explore your potential and thrive.
Sandvik Mining and Rock Solutions Central Africa is currently seeking a Business Line Manager Automation for Central Africa reporting to the Vice President Sales / Managing Director.
Role:
The purpose for the role is to drive regional sales and business development of Sandvik Mining Automation products and services in Central Africa. An important part of the role is to create local business plans, working closely with the customers and establishing solid and continuous mining automation sales process together with other local functions including other business lines, account- and sales management and aftermarket functions.
Identifying the current/future operational constraint trends experienced by Sandvik customers; drive the development and sale of Automation and Digital services as a service offering (both externally & internally). Analyzing both customer and Automation information to assist with future business development trends and offerings
Supporting Central Africa "must-win" sales opportunities with change management expertise
Promoting Sandvik's superior applications knowledge
Duties:
Direct the planning and preparation of business proposals and make recommendations to senior management.
Identify opportunities to sell Sandvik total offerings
Manage tender to contract signature with account management
Lead sales management
Conduct competitor analysis
Develop deep understanding of customers business, operations and processes
Ensure contract terms and conditions are in place
Ensure system configuration matches customer needs and work technically
Produce rolling forecast, budget & weekly targets
Financial and budgetary Reviews & reports
Identify & implement procedural change
Manage and institute performance recommendations
Continuous needs analysis (internal & external)
Manage profit margins
Manage labour turnover
Initiate preferred procurement initiatives
Coordinate commissioning and project teams
Coordinate after sales remote support structures
Ensure that major tenders support customer needs and represent best practices, thus increasing our chances of securing sales
Engage customers on a senior level (decision makers)
Establish early project stage contacts to key customers
Identify and deliver consulting services internally and externally
Identify needs, opportunities, and alternative solutions
Experience Required:
ESSENTIAL that a minimum University Bachelor's Degree (Mechatronics, Industrial, Mining, Electronics) in engineering or equivalent has been obtained.
Mining application and operational experience or knowledge of rules of thumb within the mining industry. Minimum 5 years' experience in application of mechanized mining and TMM mining automation and digital solutions.
2 – 3 years project management experience
Minimum 2 years' experience in management role
Experience Required:
MBA / MBL advantageous
Recognized Leadership Program completed
Previous Sales and Account management experience (3 years minimum)
Computer Literacy – MS Office Suite (Word/Excel/Power Point/Outlook)
Experience with the application of the mine automation and information management system will be advantageous
Effective communication skills in English (written and verbal)
Fitness for underground and surface mines (Silicosis Certification).
EIZ Membership
Valid driver's license
Extensive Change Management, Project Management and Communications expertise
In-depth understanding of Sandvik's business and offering
Sandvik offering fluency (specifically the digital and automation products)
Skills:
A proactive self-starter who can actively influence the outcome of a project, is comfortable in taking difficult decisions and yet is thorough in their planning and organization
Ability to be an effective team player
Builds strong working relationships with a diverse range of people across the mining industry
Act in line and support a purpose-led, high performing culture, applying the company values and principles of inclusion and diversity
Knowledge of mining operational methods and processes