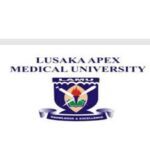 Lusaka Apex Medical University (LAMU)
The Lusaka Apex Medical University (LAMU) has the following job opportunity under the Faculty of Medicine
1. JOB TITLE: Bio-Medical Technologist-Biology
2. JOB PURPOSE:
To conduct practical lessons and demonstrations to students who are pursuing medical degree courses to equip them with the necessary skills.
3. MAIN DUTIES AND ACCOUNTABILITIES
Prepare specimen and reagents/chemicals on behalf of students before each laboratory session so as to assist students to effectively carry out experiments.
Prepare laboratory instruments and laboratory apparatus as well as venue to be used during demonstrations.
Conduct demonstrations to the undergraduates so as to impart skills to perform experiments and trials in the laboratory as part of their training.
Observe and test students perform practical work giving guidance where necessary to ensure appropriate skills are acquired and lessons are learned.
Demonstrate report writing, mark and grade submitted reports, submitting final grade to the Head of Department.
Undertake student assessments recommends modification to suit new teaching /learning methods in consultation with Supervisor.
Provide counselling to students having difficulties training to assist them overcome such obstacles so that they progress in their course of study.
Collect and clean apparatus at the end of the laboratory session for safe storage.
Calibrate apparatus requiring setting according to prescribed standards to ensure consistent results when used repeatedly by students.
Maintain the laboratory clean to ensure good housekeeping.
Maintain a storeroom containing laboratory equipment to effectively support laboratory work and take an inventory of content.
4. PROFESSIONAL QUALIFICATIONS;
Bachelor of Science Degree with a minimum of two (2) years' experience in a laboratory that uses Lab Tutor or computer based data collection
Diploma in laboratory sciences with at least five years' experience in a laboratory that uses Lab Tutor or computer based data collection
5. ADDITIONAL SKILLS
Computer literate in word, Excel, power point, etc.
HOW TO APPLY
Suitably qualified and experienced persons may send or deliver their applications stating three traceable referees in one document including cover letter, CV, copies of academic & professional certificates.
To:
The Deputy Registrar Human Resources
Lusaka Apex Medical University
Kasama Road, Chalala
P.O Box 31909
LUSAKA
E-mail: [email protected]
Closing Date: 5th April, 2021