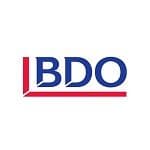 Career Opportunities at BDO
BDO is the world's fifth largest network of public accounting firms. We provide audit, taxation and advisory services in over 167 countries and territories, with over 91,000 people working out of 1,658+ offices worldwide. BDO's distinctive reputation for building excellent relationships with our clients is built upon our commitment to all our stakeholders, that what matters to them, matters to us. In Zambia, BDO provides a full range of services to both local and international clients of varying sizes,
in all sectors of the economy.
At BDO Zambia, we have a rapidly growing audit practice looking for enthusiastic professionals to join our team. We believe in People helping people achieve their dreams. Those dreaming to be Chartered Accountants and willing to gain international experience, an opportunity is available for successful candidates for the audit trainee role.
Audit Trainees
Qualifications & Selection Criteria
Full ACCA/ZICA/ CA(ZA) or Two Papers to Completion
No Experience needed
Demonstrated ability to work effectively both as part of a team and to work autonomously with limited supervision;
Good communication skills
Other skills and attributes:
Computer literate
A valid driver's licence
Strong analytical skills
Excellent communication and interpersonal skills
Unshakeable integrity and confidentiality
Strong initiative and ability to meet deadlines
We offer:
Competitive remuneration package
Opportunities for rapid career progression
Only shortlisted candidates will be contacted.
BDO's global network extends across 167 countries, with over 1,000 people working out of 1,651 offices. But they're all working towards one goal: to provide you with exceptional service. That means local resources who understand your business and industry, backed by a truly global network. No matter where you de business, we have people who know your business. This is just one part of BDO's commitment to delivering exceptional client service