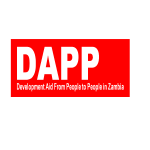 Development Aid from People to People registered in 1990 as a national non-profit organisation with its headquarters in Ndola. The vision of DAPP is, through running grassroots projects, to assist people to get knowhow to improve their living conditions. DAPP seeks to build hope and to make disadvantaged people to stick together to fend for their families and community. DAPP and the communities work in partnerships on health, child development, education, human rights, economic empowerment including agriculture and environment. DAPP is also selling second hand clothes for generating funds for implementing social projects. DAPP works in 77 districts in all provinces and has a 1500 people staff complement. DAPP is a member of the Federation of Associations connected to the International Humana People to People Movement.
The DAPP Smallholder Farmers Support Programme is inviting suitably qualified and experienced persons to apply for the position of Assistant Monitoring and Evaluation Officer to be based at the DAPP Smallholder Farmers support programme Office in Monze.
1. Reporting relationship
Reports to the Project Manager
2. Duties and Essential Job Functions
Ensures implementation of monitoring and evaluation (M&E) field activities
Assists with the work plans and implementation of monitoring and evaluation systems
Assists the M&E focal person in ensuring that all activities are carried out and that all deadlines and targets are met
Assists the M&E focal person in ensuring that all base line information and key data are captured during the various field activities
Assists the M&E focal person and Project Manager in ensuring full usage of the budget allocated under this project
Works in close collaboration with the M&E Officer to ensure full implementation of all related field
Collects ongoing project monitoring and evaluation data through relevant Community Mobilisers/Project Leaders through District Coordinators
Inputs project monitoring and evaluation data into database
Supports data analysis and preparation of reports
Produces monthly summaries of monitoring and evaluation data for presentation to M&E Officer
Produces ad hoc monitoring and evaluation reports as requested by the M&E Officer
Supports the M&E Officer with mid-term and final evaluation data requirements
3. Qualifications
Diploma in Computer Studies or similar field
One-year post qualification experience
Computer skills in Microsoft Office and statistical applications
4. Application Method
Applications with detailed Curriculum Vitae (CVs) and minimum 3 referees must be received by 2ndFebruary, 2021.
The cover letter and CV must be one document, and the applicant's name must be the document title.
The subject of your email should be Assistant M & E Officer Position.
Please indicate your current, or last salary and benefits in the cover letter.
Do not attach certificates and other documentation at this stage.
Please submit applications to these emails:

[email protected]

and

[email protected]

or deliver to DAPP Provincial Office in Monze
Only shortlisted candidates will be contacted.