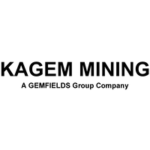 Kagem Mining Limited
Kagem Mining Limited, based in Lufwanyama, is the world's single largest emerald producer. It covers an area of approximately 41 square kilometers and is in the central part of the Ndola Rural Emerald Restricted Area ("NRERA"), in the Copperbelt Province of Zambia. Kagem Mining prides itself on industry-leading health and safety standards, innovative approaches to engineering and cutting-edge management of unique geology.
Since 2008, Kagem is 75% owned by Gemfields, a world-leading supplier of responsibly sourced colored gemstones, in a model partnership with the Zambian government, through the Industrial Development Center (IDC). Kagem aims to emulate the values of Gemfields and operate in a way that contributes positively to the national economy, while taking a leading role in modernizing the colored gemstone sector and building sustainable livelihoods for the communities around the mine. Kagem believes that colored gemstones should be mined and marketed by championing three key values – legitimacy, transparency and integrity.
Position: Assistant Manager – IT (x1)
Reports to: Senior Manager IT
Job Purpose: To implement and maintain Information and Communication Technology (ICT) infrastructures as per company policy, Principle Accountabilities
Responsible for the maintenance, configuration, and reliable operation of computers, network servers, Time & Attendance and CCTV systems.
Install and upgrade computer components and software, manage virtual servers, and integrate automation processes.
Troubleshoot hardware and software errors by running diagnostics, documenting problems and resolutions, prioritizing problems, and assessing the impact of issues.
Provide documentation and technical specifications to IT staff for planning and implementing new or upgrades of IT infrastructure.
Perform or delegate regular backup operations and implement appropriate processes for data protection, disaster recovery, and failover procedures.
Lead desktop and helpdesk support efforts, making sure all desktop applications, workstations, and related equipment problems are resolved promptly with limited disruptions.
Responsible for systems capacity, storage planning and database performance.
Responsible for training of users in new systems and implementation of ICT policies.
Qualifications & Experience
Bachelor's degree in Computer Science, Information Technology, or Information Systems.
4-6 years of experience in computer networks, database, or general systems administration.
System administration and IT certifications in Microsoft, ITIL, Virtualization or other ICT related fields are a plus.
Working knowledge of Virtualization, Wired/Wireless/Fibre networks, CCTV and Time & Attendance systems.
Strong knowledge of Active Directory, Office 365, SQL Server and Dynamics Nav Software.
Strong knowledge of implementing and effectively developing helpdesk and IT operations best practices, including expert knowledge of data security, storage, protection, and disaster recovery protocols.
Excellent analytical and evaluation skills.
Ability to work with minimum supervision.
Must be a member of ICTAZ or EIZ.
The company provides single status accommodation at the mine site.
Send your applications (Covering Letter and CV only) to The Head-Human Resources by mail to; [email protected] Certificates will only be required at the interview stage.
Only short-listed candidates will be contacted.
Closing date 26th March 2021
Kagem Mining Ltd is an equal opportunities employer and encourages all eligible applicants to apply without any consideration to sex, cultural consideration, disability or creed. We do not charge or ask for money from candidates applying for jobs during any stage of the recruitment process, if you are asked for money by anybody, please do not proceed and report such individuals to the police immediately.