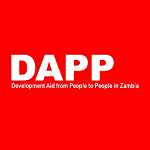 Development Aid from People to People (DAPP) is a nationally registered NGO working with development projects within the fields of education, health, agriculture and other poverty alleviation programmes. Projects are carried out in all the provinces of Zambia, reaching over 1 million people. Key funding partners include the Government of Zambia, national and international development organisations (USAID, EU, Global Fund, WFP and more) as well as private sector organisations.
DAPP in Zambia is a seeking qualified, experienced and passionate individual to fill the position of Assistant Human Resources Officer, for its Clothes and Shoes fundraising project. The position is tenable in Ndola.
1. Job Summary
The principal purpose of the role is to support the project Human Resources Officer, the national Human Resources team and the leadership and employees of the Clothes and Shoes project, on all human resources matters, and thereby contribute to the success of the project and DAPP in Zambia.
2. Main roles and responsibilities
Works with team members to support development of the Human Resource department's work plans and actively participates in the implementation of the plans.
Drafts employment related documents, such as letters of offer, employment contracts, memoranda and other correspondence as required.
Assists with assembling material for orientation sessions for all new employees and ensures that required employee information is obtained and secured within the employee's personnel file.
Ensures that all original and required employee correspondence is maintained in the personnel files and provides regular documentation audits of the Personnel Files to ensure accuracy and completeness of the documents on file, including Performance Appraisals, employment Agreements, Job Descriptions, disciplinary records, salary documentation and other required documentation.
Prepares and maintains meetings records and distributes meeting minutes.
Maintains and provides reports to HRO for probationary ending periods and annual performance review due dates.
Provides administrative support to ensure health, wellness and safety compliance and initiatives are met as required by law.
Assists with the coordination and facilitation of training activities.
Assists with HR communication to all staff as required.
Assists the HRO with gathering data for completion of weekly, monthly, quarterly, annual, and other reports.
Ensures that the strictest of confidentiality is maintained at all times.
Coordinates and actively participates in team building initiatives/ activities.
3. Qualifications
Minimum of Certificate in Human Resources Management or equivalent.
Member of the Zambia Institute of Human Resources Management, with valid practicing licence for 2022.
At least One (01) year post qualification experience in Human Resources Administration / Management.
Operational knowledge of human resource information management system(s) will be an advantage.
4. Preferred qualities
Good understanding of Zambian labour laws.
Strong interpersonal and team building skills.
Exceptional planning and time management skills and ability to multitask with ease, adapting to frequently changing priorities.
Strong written and oral communication skills, including the ability to make presentations
Good negotiating and conflict resolution skills
Ability to maintain a high level of accuracy and confidentiality concerning employees and employee records.
Competence using common desktop applications and internal systems.
5. Method of Application
Applications with detailed Curriculum Vitae (CVs), with minimum 3 referees must be received by 25th March, 2022.
The cover letter and CV must be one document, and the applicant's name must be the document title.
Indicate the job title, Assistant Human Resources Officer, as the subject of your email. Please indicate your current, or last gross salary and benefits in the cover letter.
Do not attach certificates and other documentation at this stage.
Please submit applications to these emails: 

[email protected]

 and [email protected]
Ndola residents are particularly encouraged to apply.
Only shortlisted candidates will be contacted.