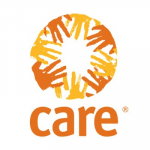 CARE is an international NGO with local staff and community partners in 100 countries. We create local solutions to poverty and inequality and we seek dignity for everyone every day and during times of crisis. These solutions have a broad range, from disaster response to food and nutrition to education and work for women and girls to healthy mothers and children. CARE puts women and girls at the center of everything we do because when they have equal access to resources, they lift their families and communities out of poverty. Our staff live where they work, which makes us effective at understanding the challenges they face. We've been doing this for 75 years, since World War II. It started with the world's first CARE Package® of food for the post-war hungry in Europe. Our work today is as important as ever, we believe that poverty and inequality are historic injustices that we can end within a generation, for good. If you share our core beliefs: poverty is an injustice; poverty is solvable; and together, we have the power to end it, join us, and Fight with CARE.​
Work Location : Zambia – Lusaka
Type of Post : Accompanied – Family
Other Possible Location :
Funding : APPROVED
Expected Travel : up to 30%
Type of Contract :
Language Requirement : ENGLISH
Application Deadline :
Employee Duration : Active Full-Time
Job Summary
The Assistant Country Director is responsible for ensuring that CARE's programmes in Zambia tackles poverty and injustice with the overarching aim of reaching transformative social and economic equality for women and girls. The ACD will assist the Country Director maintain a high profile for CARE International in Zambia as a leader in bringing about long lasting social and economic change.
As a member of the CARE International in Zambia country office senior leadership team, the Assistant Country Director will contribute to country programming and leadership priorities. This position will lead program strategic meetings, as well as provide input and feedback on key issues. By engaging with key regional and HQ stakeholders, the Position will support overall leadership and key program functions of the country Zambia office. He/she will oversee the country office compliance with the prevention of sexual exploitation and abuse, and anti-fraud policies in particular, and reinforce this behaviour with staff and partners in the line of duty.
Responsibilities:
1.Leadership and Strategy
The Assistant Country Director will be a key member of the Country Office Senior Leadership Team (SLT) and is responsible for leading and as well as supporting the SLT uphold the highest standards of behaviour, programme outcomes and impacts.
The ACD is required to emulate the behaviours required of an International Organisation and ensure all staff in their line of duty perform to those high standards.
The Assistant Country Director will be expected to provide innovative leadership and encourage staff to take an active role in programme design and proposal development in line with the strategic directions within the CARE Zambia Business Plan.
This direction should be broadly in line with the Southern Africa Food and Nutrition Security and Climate Change strategy (FNS-CC), the ECSA road map and the CARE International Vision 2020, as they exist now, though will be revisited in FY2020.
The ACD will have a strong understanding of women and girls' equality issues and what inclusive programming means in Zambia.
The ACD will form strong relationships with national and local government representatives
The ACD will foster donor relationships both within Zambia and overseas.
2. Resource Mobilization
The ACD will be key in pursuing an aggressive resource mobilization strategy for the Country office.
The role requires tracking business opportunities for new projects and programmes and maintain the pipeline at a minimum of USD10m annual goal.
The ACD will promote strategic relationships with CARE International (CI), donors of all types, CSO partners and the Government of Zambia in line with the 7th National Development Plan. The Country Director (CD) will support and also be active in this area, and the CD and ACD will work together to promote and exploit all opportunities possible.
3. Communication & Coordination
The Assistant Country Director will encourage project Managers and Staff to engage with their project work as part of the Knowledge Management and Learning Framework where accountability, gender transformation and resilience will be among the markers of change and impact.
The ACD will foster communication between projects and programmes and inject a spirit of unity across the CO programme teams. Key programme and project staff with the responsibility for Knowledge Management, Learning and innovation will be directed in maintaining and improving key databases for measuring program impact and reach, and ensure that Program Impact data is captured, documented and sent to CI in a timely manner each year.
The Position will coordinate closely with the Programme Support Manager and the Finance Manager to ensure that programme and project staff understand the Country Office Finance Manual and any CARE International finance directions such as the CI Shared Programme Costs (SPC) Policy as well as understanding the concept of the Direct Programme Costs (DPC) and Costed Work Planning (CWP).
The role will ensure that Project budgets are managed tightly and responsibly to avoid losses and/or underspending.
4. Relationships and Networking
The ACD will work closely with, and will be supported by, the programme units at CARE Canada and colleagues in the Southern Africa region as well by CARE International members who work with CARE Zambia (CARE UK, CARE USA, CARE Deutschland, CARE Netherlands, CARE Austria).
He/She will be expected to form close relationships with all CI members to enhance CARE Zambia's profile as a preferred Country Office to work with.
The will be required to inspire innovative designs from programme and project staff through regular programme meetings and open discussions and capture ideas from staff in the field.
In addition, the ACD will seek and foster new donors, and will be expected to liaise and maintain positive relations with current donors.
Qualifications:
Bachelor's Degree in relevant field, Master's degree or equivalent work experience;
Seven or more years of relevant work experience in a Senior management position
Relevant work experience in International Non – Governmental Organizations operations or relief/Development field.
The position requires someone who is a passionate advocate for the rights of women and girls.
Experience in establishing and maintaining collaborative relationships with donors and government counterparts.
Demonstrated experience with proposal development with range of international donors (i.e USAID, EU, DFID,)
There are individuals who may use CARE's name and trademark in emails and on websites in an attempt to solicit fees from interested job-seekers. Some examples of these fees are placement fees or immigration processing fees. CARE does not use recruiting or placement agencies that charge candidates an up-front fee of any kind. Occasionally, CARE does employ recruiting or placement agencies to help us identify candidates for specific employment within CARE. If you're contacted by a legitimate recruiting or placement agency, there should be no charge to you. If you suspect that you have been a victim of fraud from someone purporting to be CARE, please contact us at [email protected].
We provide equal employment opportunities (EEO) to all employees and qualified applicants for employment without regard to race, color, religion, gender, gender identity, ancestry, sexual orientation, national origin, age, handicap, disability, marital status, or status as a veteran. If you'd like more information about your EEO rights as an applicant under the law, please click here.