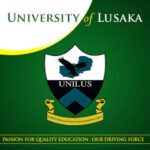 University of Lusaka
The University of Lusaka is inviting applications from suitably qualified candidates to fill up the position of Assistant Accountants in the Finance Department. These candidates should be highly motivated and innovative.
1. ASSISTANT ACCOUNTANTS (2)
The overall purpose of this position is to reconcile receipts and payments made to University and various cashbooks and bank accounts.
Summary of Job Responsibilities:
Preparing bank balances on a daily basis.
Preparing Bank Reconciliations.
Transacting on behalf of the University with suppliers for various services rendered to the University.
Ensure that cash and bank statements are properly managed.
Processing financial transactions on a timely basis using the available accounting software.
Conduct reviews of accounting systems to ensure that reporting requirements of the Institution are fulfilled.
Attending to queries from both internal and external clients with accounts-related issues.
Key Attributes
Excellent communication skills, both oral and written.
Very good Interpersonal skills.
Highly analytical and attentive to detail.
Highly committed and self-motivated.
High levels of integrity.
Minimum Qualifications:
A minimum qualification of CA Application Stage, ACCA Applied Skills, or CIMA.
A Bachelor of Accountancy.
Must be a member of the Zambia Institute of Chartered Accountants (ZICA).
Full Grade Twelve (12) Certificate, with five credits or better. English and Mathematics are a must.
A minimum of two (2) years of working experience.
Must be conversant with the Pastel Evolution accounting package.
If you meet these requirements please send your application, detailed curriculum vitae the supporting documents to the address below by, 6th August 2021.
The Human Resource Officer
University of Lusaka
P O Box 36711,
Lusaka, Zambia.
"Passion for Quality Education, our driving force"