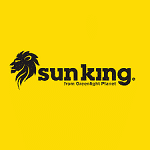 Greenlight Planet is a multinational, for-profit business that designs, distributes, and finances solarpowered home energy products, with an underserved population in mind: the 1.3 billion global consumers for whom the old-fashioned electrical grid is either unavailable or too expensive. Over a decade in business, the company is now a leading global brand in emerging markets across Asia and Sub-Saharan Africa. Greenlight's Sun King™ products provide modern light and energy to 32 million people in more than 60 countries and have sold over 10 million products worldwide. From the company's wide range of trusted Sun King™ solar lamps and home energy systems, to its innovative distribution partnerships, to its EasyBuy™ pay-as-you-go consumer financing model, Greenlight Planet continuously strives to meet the evolving needs of the off-grid market. Greenlight stays in touch with underserved consumers' needs in part by operating its own direct-toconsumer sales network, including thousands of trusted sales agents (called as "Sun King Energy Officers") in local communities across local communities. For Sun King Energy Officers, this is not only a good source of income and employment but also they become an important member of their community bring light and catering to local energy needs within their communities. Today, with over 1300 full-time employees in 11 countries, we remain continuously impressed at how each new team member contributes unique and innovative solutions to the global off-grid challenge, from new product designs, to innovative sales and distribution strategies, to setting up better collection mechanisms, to better training strategies, to more efficient logistical and after-sales service systems. We listen closely to each other to improve our products, our service, and ultimately, the lives of underserved consumers.
The Role:
The Area Business Manager will lead sales, collections and distribution operations in the area they are assigned for the direct distribution of Sun King Solar products sold on Pay-As-You-Basis (also called and recognized as "EasyBuy" Business unit) through a network of agents called Field Sales Executives. EasyBuy technology and services allows customers to purchase units by paying for their Solar products in small installments, thus ensuring they are extremely affordable for off-grid or rural customers. The Area Business Manager is ultimately accountable for generating sales, ensuring collections are timely and accurate and keeping the entire Direct Distribution growing rapidly in a sustainable manager.
Key responsibilities:
Hire & retain Field Sales Executives:Hire, train and maintain a team of atleast 40 active Sun King Field Sales Executives in the area. Use multiple avenues for finding the right talent to sell Sun King EasyBuy products with the help of village influencers such as the village heads, teachers, religious heads, doctors, farmers and others, as applicable. Create a reputation and goodwill for the mission of Sun King to provide clean, affordable and reliable source of energy in their areas.
Training of Field Sales Executives: Provide training to the Field Sales Executives on several aspects of the business such as sales, collections, product, technical, inventory and logistics related. Ensure that they are fully supported and lead in the best professional manner demonstrating highest levels of integrity, ethics and professionalism while dealing with customers.
Provide role clarity to Field Sales Executives: Provide complete clarity to Field Sales Executives related to their day to day tasks, sales & collections plans, routes and targets. This includes, ensuring Field Sales Executives have a pre-agreed sales route/area to sell in, they understand how to demonstrate and sell Sun King products, they have the confidence to be able to present and resolve basic customer queries on the spot and they have access to Area Business Manager at all times in case of questions and concerns.
Daily field visits: Have a weekly touchpoint with every Energy Officer in your area – either through in-person meetings, making a sale to the customer in your area or having a call. Resolve all possible issues faced by the Field Sales Executives and report them to your Regional Business Manager, every week. Ensure that first 5 sales of each Energy Officer is done along with the Area Business Manager in the area, by each Energy Officer to ensure that the core sales and collection process is fully understood by each Energy Officer.
Work with Field Sales Executives:Conduct joint field work with a group of Field Sales Executives to provide sales and collection training on a weekly basis and drive EO engagement. This includes doing night activations, market activations, visiting local communities and gatherings such as SACCOs, Self Help groups, retail centers and markets to make group sales.
Exceed your sales & collections targets: Meet or exceed sales and collection targets established and agreed with Regional Business Manager. Provide daily, weekly updates on sales, EO recruitments, Customer issues and resolutions, as desired and agreed with your Regional Business Manager.
Drive robust field sales processes: Review collection progress with your Field Sales Executives daily and provide adequate training to them on driving better collections in your areas. This includes, customer and area profiling, ensuring regular and timely collection follow-ups, resolving customer issues to ensure they make payments and ultimately repossessing the systems as a last recourse in case the customer defaults.
Remain externally focused: Keep an eye on competition within your area and ensure you take adequate measures to protect and grow our business from competitive pressures. Pro-actively inform your leadership team and take measures to ensure Sun King remains a paramount brand name in Solar products for your area.
Resolve customer issues: Provide world-class support to your customers as it relates to product delivery, training on how to use and make payments, installation, after sales warranty issues. Ensure that you work with your Field Sales Executives to establish clear expectations and processes to resolve all customer issues within 24 hours.
Control Marketing & Other Support spend:Provide adequate marketing support & equipment (such as smartphones) necessary to all your Field Sales Executives. Ensure we get maximum return on investment for all the costs we incur in areas of marketing, supply chain, store maintenance and smartphone issuance.
Review meetings with Field Sales Executives:Conduct weekly table meetings with Field Sales Executives and ensure that you have RBM present in those meetings to resolve any outstanding customers or EO issues. Coordinate, plan and organize the meeting to have maximum attendance and progress. Recognize outstanding performers from time to time and ensure the motivation of Field Sales Executives is maintained at an all-time high.
Grow Retail presence:Ensure the retail network in your Area grows with the help of an Area Retail Coordinator, hired under you. Ensure all retail related activities are followed per process and the base of high-selling retailer grows exponentially within your area of operation.
The ideal candidate has:
Degree or Diploma in business field.
At least 2 year of field sales experience in the same area/region. Preferably having worked in Micro-Finance, Banking or Telecom field sales role.
Passionate about working with rural consumers and resolving their issues.
Process oriented individual and work style, is able to work independently and lead the area.
Driven by the social mission to provide energy to consumers and employment to rural communities. Should be a values driven individual.
Good communication and interpersonal skills to be able to build and lead large field teams.
The Perks:
Greenlight Planet offers competitive compensation, annual performance reviews, weekly professional development chats, a fun, supportive work environment, free lunch, medical insurance, workplace accident scheme, and opportunities for continued professional career growth within a fast-growing global enterprise. Greenlight Planet believes in equal opportunity for all people: We do not discriminate based on race, color, religion, sex, marital status, sexual orientation, national origin, HIV/AIDS status, or disability.