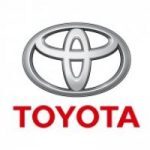 Toyota Zambia Limited
Toyota Zambia Limited is a leading Motor Company in the country with operations in Lusaka, Copperbelt, Solwezi and Livingstone. We are looking for personnel to be appointed as follows:
Job title: Apprentices – Grade 12 School Leavers
We are ONLY interested in a highly talented person who will meet criteria below and who will be on a Four Year Apprentice Training Program: –
Must be have 2019 full Grade 12 GCE certificate holder with at least three Credits in Mathematics, English and Science
Not More than 21 years of age
The Candidates should show passion to work for Automotive Industry as a preferred Career
The Candidates should show that they have leadership qualities
Should be able to pass Technical Training Courses as Toyota Zambia will pay for their 12 months
Technical College training (Certificate in Motor Vehicle Systems City of Guilds)
What is a Toyota Zambia Apprenticeship?
Your four-year apprenticeship program will combine training with paid employment. You will work at one of the Toyota Zambia Branch Workshops but also undergo training at a government technical college. You will work under Toyota trained Technicians gaining valuable workplace skills by undertaking practical tasks and experiencing real-life challenges. You will undergo a learning plan, with progress monitored by our in-house Toyota Training Instructors during your training. Once qualified as a Technician you can enter the Toyota Motor Corporation Technician TEAM-GP training program. Starting at Toyota Technician, and then enrolling into the other levels of training which are Pro-Technician, Diagnostic Technician and the highest certification being Diagnostic Master Technician. These are worldwide Toyota recognized certifications. Here are just some of the characteristics that will help you to succeed as a Toyota Technician:
A passion for the automotive industry
A methodical approach to work
An interest in problem solving .
Wanting to find out how things work
Customer service and 'people' skills
Good practical skills
Those who possess the above stated competencies/qualifications should submit their applications and certificates to the address below.
Closing date for receiving applications is 19 March, 2021.
The Group Human Resources Manager 
Toyota Zambia Limited 
Box 33438 
Lusaka
Or email: [email protected]
Please note that only applicants who meet the above requirements will be contacted for interviews.